Noun Past Questions For MPA868 – PUBLIC Enterprises Management. Locate the download button below to download the Noun Past Questions for PUBLIC Enterprises Management.
---
NATIONAL OPEN UNIVERSITY OF NIGERIA
91, Cadastral Zone, Nnamdi Azikiwe Express Way, Jabi-Abuja FACULTY OF MANAGEMENT SCIENCES DEPARTMENT OF PUBLIC ADMINISTRATION
2019_2 EXAMINATION
Course Code: MPA 868
Course Title: Comparative Public Administration Credit Unit: 3
Instructions

: 1. Indicate your Matriculation Number clearly
2.Attempt Question 1 and another three (3) questions
3.Question 1 is compulsory and carries 25 marks while the other 3 questions carry 15 marks each
4.Present all your points in coherent and orderly manner Time Allowed: 2/1/2 Hours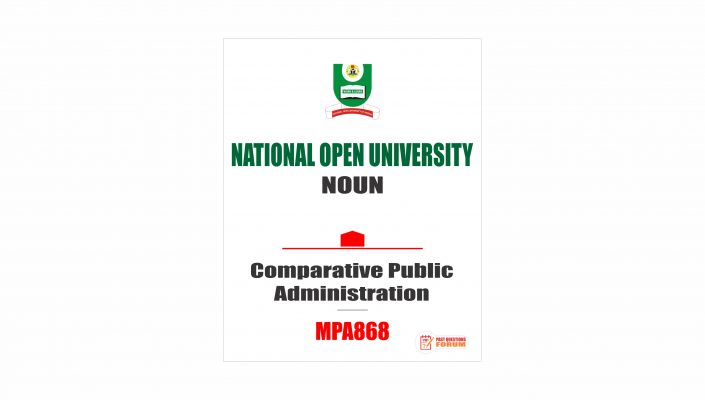 1Explain Comparative Public Administration as both
(a) a practice and (b) field of study
(c)Public administration covers a range of governmental activities in states. State these governmental activities
(d)Comparative Public Administrationhas been variously defined according to the following authors:Nimrod Raphaeli, Robert H. Jackson, Comparative Administrative Group (CAG), Jong S. Jun, andS.B.M Marume. State one of them as defined by one of the authors.
(e)Nicholas Henry rightly observed thatComparative Public Administration is different from Traditional or American Public Administration in two perspectives. What are these two distinguishing features?
2Some scholars believe that Comparative Public Administration has no analytical and empirical utility as a discipline of study. Present a different perspective by listing and explaining five usefulness of Comparative Public Administration.
3Write short notes on Three (3) of the following:
(a)Traditional model
(b)The Elite Model
(c)The Systems Theory
(d)Structural-Functionalism
4There are certain characteristics which are identifiable in the public administrative system in the Third world countries. List and explain five (5) of these characteristics.
5a Define the term Bureaucracy according to Max Weber
5b Bureaucracy is associated with some structural characteristics. State five (5) of these features 6a Define Interest Groups according to LaPalombara
6b Classify Interest Groups according to their motivation
6c List three strategies and tactics of Interest Groups
---