Last Updated on January 26, 2021
Noun Past Questions For AEA302 – Agricultural Finance. Locate the download button below to download the Noun Past Questions for AEA302 – Agricultural Finance.
---
NATIONAL OPEN UNIVERSITY OF NIGERIA
FACULTY OF AGRICULTURAL SCIENCES
DEPARTMENT OF AGRICULTURAL ECONOMICS AND EXTENSION
PoP EXAMINATION SEPTEMBER/OCTOBER, 2019
Programme: Agricultural Extension and Management
Course Code: AEA 302
Course Title: Agricultural Finance 
Credit Unit: 3
Total Score: 70 Marks
Time Allowed: 3 Hours
Instruction

: Answer compulsory question one (1) (30 marks) and any other four (4) Questions (10marks each)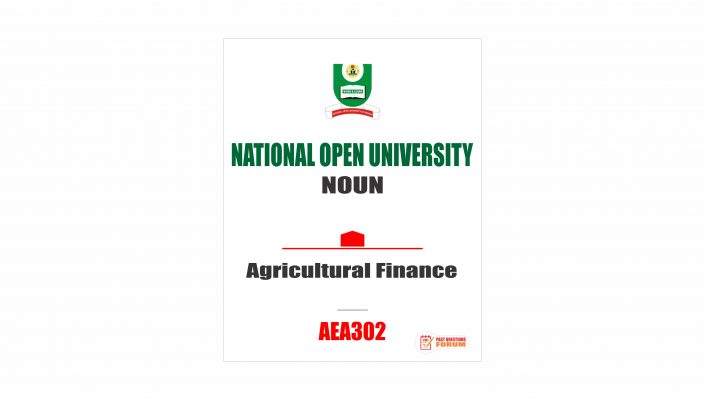 1 a. List the five types of farm records and discuss Inventory records (10marks)
   b. Analyze the advantages and disadvantages of the purpose classification of credit
(10marks)
   c. Outline the importance of Economic Principles to Farm Financial Management (10marks)
2. Justify using ten (10) instances the necessity for financial intermediaries in agriculture
finance in developingcountries(10marks).
3.A classification of credit according to purpose brings out the close relationship between time
and purpose. Appraise the purpose classification of credit on the basis of:
a. Production loans (short- and intermediate-term loans)(4marks)
b. Real estate loans (long-term loans)(3marks)
c. Farmer cooperative borrowing(3marks)
4 a. What do you understand as loan delinquency? (3 mks)
   b. Agricultural loan delinquency is common among farmers in developing nations including
Nigeria. Analyzeany seven (7)causes of loan delinquency (10marks).
5. Small holder farmers are often confronted with a number of risks and uncertainties in carrying
out theiragricultural production activities.Justify this statementby explaining four (4) types
of  risks and uncertaintyfaced by farmers (10 marks).
6 a. State the three (3) methods of capital budgeting of agricultural enterprises (3 mks)
   b. Discuss the three (3) major methods of capital budgeting of an agricultural enterprise
mentioned above (in 6a) (7marks).
7a.What is the principal that will amount to N32,220.00 in 5 years at 10%? Given the formula:
A = P (1 + r)n
Where A = N32,220
           n = 5 years
           r = 10%(4marks)
b. What will be the amount receivable if a farmer invested N10,000.00 on a farm implement for
5 years at 10% compound interest? (6marks)
DISCLAIMER
Pastquestionsforum is a global focused test-prep company. It is our duty to provide you with the most comprehensive study materials for your examination. Our study materials are focused on extensive analysis, input from previous test candidates, and, on occasion, official/privileged study materials made available by examination bodies and testing agencies.