Last Updated on January 26, 2021
Noun Past Questions For HCM441 – Strategic Management in Hospitality and Tourism. Locate the download button below to download the Noun Past Questions for HCM441 – Strategic Management in Hospitality and Tourism.
---
NATIONAL OPEN UNIVERSITY OF NIGERIA
University Village, Nnamdi Azikiwe Expressway, Plot 91, Cadastral Zone, Jabi, Abuja
Faculty of Agricultural Sciences, Dept. of Agricultural Economics and Extension
PoP Exam Question October/November, 2019
Course Title: —- Strategic Management in Hospitality and Tourism 
Course Code: — HCM 441
Credit Unit: —-2
Total Score: —-70 Marks
Time Allowed: – 2 Hrs
Instruction

: Answer compulsory question 1 (25 mks) and any three (3) questions (15 mks each)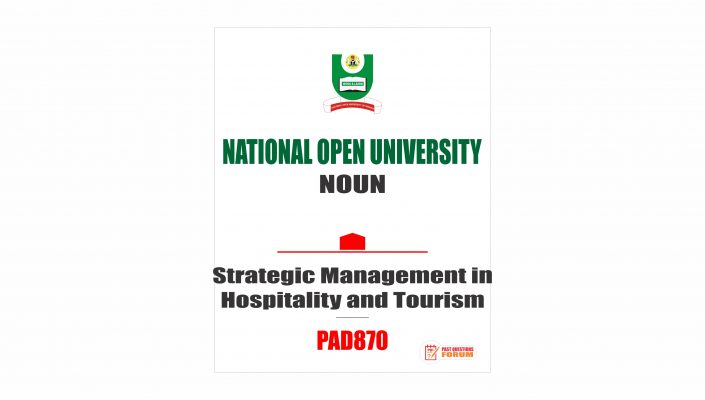 Question One
a. Explain the meaning of strategic management (3 mks)
b. (i) State the three (3) major levels of Strategic planning (3 marks)
 (ii) Briefly discuss any two (2) levels of the strategic planning (2 marks)
c. Mention and discuss any four (4) characteristics of Hospitality and tourism organizations. (8 mks)
d. What is Franchising 5 marks.
e. Identify any four (4) factors that pose or stand as challenges to the management strategies of hospitality and tourism
(4 mks)
Question Two
a. List five different types of Hospitality and Tourism organizations. 5 mrks
b. Explain why hospitality and tourism organizations are described as being labor intensive? (5 mks)
c. Explain what is meant by "mission of an organization " (5 mks)
Question Three
a. Define sustainable competitive advantage (4 mks)
b. Briefly discuss the term "strategic choice" (6 mks)
c. Mention any five (5) questions that are often posed when advancing solutions to competitive organizations (5 mks)
Question Four
a. Define the term "joint venture" (3 mks)
b. Suggest four (4) reasons why joint ventures are becoming more popular in the Nigerian society (4 mks)
c. Identify eight (8) areas strategic management can help tourism and hospitality organizations (8 mks)
Question Five
a. Explain any three (3) economic environmental factors that affect tourism destinations and organizations (6 mks)
b. Explain the meaning of management contracts (5 mks)
 c. Outline four (4) key elements of the external environmental factors facing tourism organizations (4 mks)
Question Six
a. Mention five (5) main pressures faced by large organizations that operate in highly and competitive markets (5 mks)
b. Mention ten Barriers and Resistance to Strategy Implementation in the tourism industry (10 mks)
DISCLAIMER
Pastquestionsforum is a global focused test-prep company. It is our duty to provide you with the most comprehensive study materials for your examination. Our study materials are focused on extensive analysis, input from previous test candidates, and, on occasion, official/privileged study materials made available by examination bodies and testing agencies.