Last Updated on January 26, 2021
Noun Past Questions For HCM437 – ADVANCED FOOD AND BEVERAGE SERVICE. Locate the download button below to download the Noun Past Questions for HCM437 – ADVANCED FOOD AND BEVERAGE SERVICE
---
NATIONAL OPEN UNIVERSITY OF NIGERIA
University Village, Nnamdi Azikiwe Expressway, Plot 91, Cadastral Zone, Jabi, Abuja
Faculty of Agricultural Sciences, Dept. of Agricultural Economics and Extension,
POP Exam Question October/November, 2019
PROGRAMME: CATERING AND TOURISM MANAGEMENT
Course Code: —- HCM 437 
Course Title: — ADVANCED FOOD AND BEVERAGE SERVICE
Credit Unit: —-2
Total Score: —-70 Marks
Time Allowed: – 2 Hrs
Instruction

: Answer compulsory question 1 (25 mks) and any three (3) questions (15 mks each)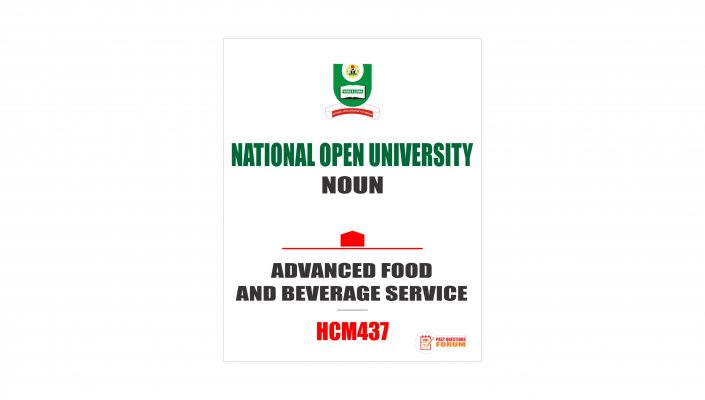 1 a. As a professional caterer, describe the order you would take in serving a lunch to a guest (6mks)
 b. Briefly explain four (4) methods of taking food and beverage order. (4mks)
 c. Outline five (5) factors in laying a Table (5mks)
. d. List ten (10) types of glass ware and their uses (10 marks)
2. a. Mention and discuss the five (5) factors that affect customers meal experience (7.5mks)
 b. Describe briefly the basic consumer needs and how you would meet these needs as a food service
operator (7. 5marks).
3. a. Describe how to serve food with one hand. 5mks
 b. Explain the following
(i) The level of service (2 ½ marks)
(ii) The standards of service (2 ½ marks)
 c. Describe briefly, five (5) sanitation standards in handling service equipment. (5 mks).
4. a. State the five (5) styles of service that could be used by a caterer (5 mks)
 b. Explain in details three (3) styles of service listed above (in 4a) 6 mks
 c. Outline four (4) service techniques used in food service operation (4 marks)
5. a. Explain what you understand by Hotplate (6 marks)
 b. Describe briefly at least four (4) hot plate terminologies you know (6 marks).
 c. Describe how to serve food with two hands (3 marks)
6 a. In the event of a fire outbreak in your restaurant, as a food service operator, describe the procedure
you would take to manage the situation (9 marks).
 b. Explain any two (2) of the following customer process
 i. Self service
 ii. Assisted service
 iii. In situ service (3 marks each) (Total = 6 marks).
DISCLAIMER
Pastquestionsforum is a global focused test-prep company. It is our duty to provide you with the most comprehensive study materials for your examination. Our study materials are focused on extensive analysis, input from previous test candidates, and, on occasion, official/privileged study materials made available by examination bodies and testing agencies.