Last Updated on January 26, 2021
Noun Past Questions For AEA507 – Agricultural Risk Management. Locate the download button below to download the Noun Past Questions for AEA507 – Agricultural Risk Management.
---
NATIONAL OPEN UNIVERSITY OF NIGERIA
University Village, Nnamdi Azikiwe Expressway, Plot 91, Cadastral Zone, Jabi, Abuja
Faculty of Agricultural Sciences, Dept. of Agricultural Economics and Extension, 
PoP Examination Questions, November/December, 2019
Programme: Agricultural Extension and Management
Course Title: Agricultural Risk Management
Course Code: AEA 507
Credit Unit: 2
Total Score: 70Marks
Time Allowed: 2Hours
INSTRUCTION

:  Answer four (4) questions in all. Question one (1) is Compulsory and carries 25marks. All other questions carry 15marks each.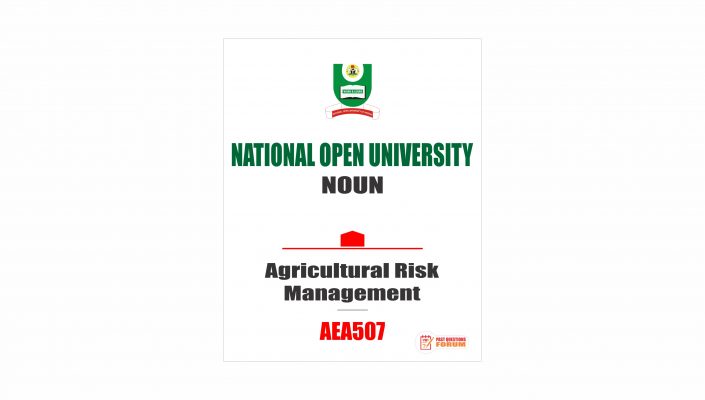 1a Define the terms
      i. Risks (2.5marks)
     ii. Agricultural risk (2marks)
   b. State the five (5) deductions underlining the nature of agricultural risk (5marks)
   c. i. State the major sources of risks and their implication on agricultural production (12.5marks)
       ii. List the six (6) types of risks in agricultural production (3marks)
2 a. What do you understand by the term Agriculture? (2.5marks)
   b. Mention and explain the nature of agricultural products (12.5marks)
3a. Explain briefly any three (3) of the effects of risk on the following sub-headings:
i.Production
ii.On-farm and off-farm diversification
iii.Investment
iv.Welfare of Producers (9marks)
  b. Differentiate between Idiosyncratic risk and systemic risk with suitable examples (6marks)
4. Based on the definition of risk management; highlight at least ten (10) principles  involve in risk
    management. (15marks)
5a. Expatiate with suitable examples what you understand by risk transfer or risk sharing (2 ½ marks)
  b. Express the five (5) major forms of risk transfer or risk sharing contracts. (12 ½  marks)
6 a. Discuss briefly on the Evolution of Agricultural Insurance in Nigeria. (10marks)
   b. State the problems militating against Nigeria Agricultural Insurance Scheme. (5marks)
DISCLAIMER
Pastquestionsforum is a global focused test-prep company. It is our duty to provide you with the most comprehensive study materials for your examination. Our study materials are focused on extensive analysis, input from previous test candidates, and, on occasion, official/privileged study materials made available by examination bodies and testing agencies.