Last Updated on January 27, 2021
Noun Past Questions For AEM505 – Administrative and Programming planning in Extension. Locate the download button below to download the Noun Past Questions for AEM505 – Administrative and Programming planning in Extension.
---
NATIONAL OPEN UNIVERSITY OF NIGERIA
University Village, Nnamdi Azikiwe Expressway, Plot 91, Cadastral Zone, Jabi, Abuja
Faculty of Agricultural Sciences, Dept. of Agricultural Economics and Extension, 
PoP Examination Questions, October/November, 2019
Course code: AEM 505
Course title: Administrative and Programming planning in Extension
Units: 2 Units
Time Allowed: 2hrs
Instruction

: Answer question 1 (25 marks) and any other 3 questions (45 marks).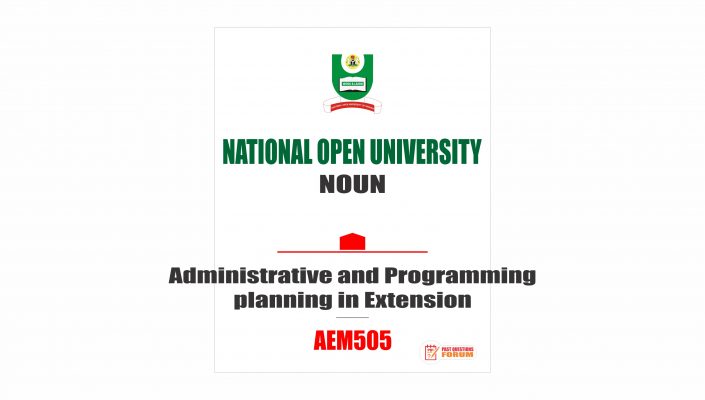 1a. (i) Identify clearly four (4) reasons why extension work is also called education use/action. 2marks
 (ii) Analyze any six (6) conditions necessary for a successful extension administration. 6 marks
b. (i) Mention five (5) tasks of an administrator performed on a daily or weekly basis. 2 ½ marks
 (ii)Outline five (5) functions of an administrator in the administrative process. 2 ½ marks
c. Identify Taylor's (five) 5 principles of scientific management under management theories. 5marks
d (i) Define staff recruitment and selection. 4 marks
 (ii) Pin point three (3) principles of effective discipline in extension. 3 marks (25 Marks) 2. (a) Mention four ( 4) purposes of extension administration. 6marks
 (b) Briefly explain three (3) tasks of extension administrator. 9marks
3 (a) As an extension administrator, identify the five ( 5) techniques to apply to increase staff morale. 5marks
 (b) Mention ten (10) essential attributes of a good administrator. 5marks
 (c) List five (5) problems of extension supervision in Nigeria. 5marks
4. (a) Itemize 5 principles of coordination in organizational planning and policy development in extension
 work. 5marks
 (b)Explain five (5) conditions needed for effective administration for extension supervision. 10marks
5. (a) Briefly explain the four (4) types of motivation in extension. 10marks
 (b) Clearly mention Maslow's hierarchy of human needs in extension organization. 5marks
6. (a) Define planning. 3marks
 (b) What are the four (4) categories of information required for decision making by extension managers?
 4marks
 (c) Clearly states four (4) reasons it is necessary to have programme planning in extension. 8marks
DISCLAIMER
Pastquestionsforum is a global focused test-prep company. It is our duty to provide you with the most comprehensive study materials for your examination. Our study materials are focused on extensive analysis, input from previous test candidates, and, on occasion, official/privileged study materials made available by examination bodies and testing agencies.