Last Updated on January 26, 2021
Noun Past Questions For AEM511 – Leadership and Rural Development. Locate the download button below to download the Noun Past Questions for AEM511 – Leadership and Rural Development.
---
NATIONAL OPEN UNIVERSITY OF NIGERIA
University Village, Nnamdi Azikiwe Expressway, Plot 91, Cadastral Zone, Jabi, Abuja
Faculty of Agricultural Sciences, Dept. of Agricultural Economics and Extension, 
PoP Examination Questions, October/November, 2019
COURSE CODE: AEM 511 
CREDIT UNITS: 2
COURSE TITLE: Leadership and Rural Development
Total Score: 70 Marks
INSTRUCTION

: Answer question 1(25marks) and any 4 questions (15marks each)
Time Allowed: 2 hours.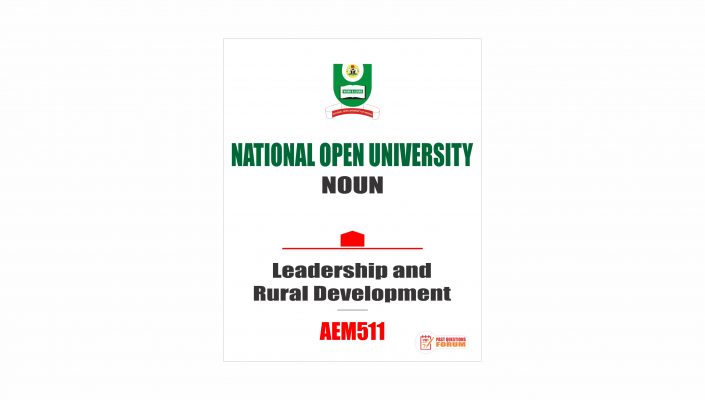 1 a) Define the following:
i) Leadership.
 ii) The Leader
 iii) The Followers
 iv) The Situation
 v) The Task (10marks).
 b) i) Explain these Four leadership Styles by Robert House. (6 marks)
 i) Directive leadership
 ii) Supportive leadership
 iii) Participative leadership
 iv) Achievement-oriented leadership
 ii) State four (4) key elements of leadership. (4marks)
c) Outline five (5) limitations to the use of local leaders. (5 marks)
2. a) Outline five (5) characteristics of a social system. (5mks)
 b) Explain five (5) element and processes of social system. (7 ½ mks)
 c) State five (5) characteristics of a leader. (2 ½ marks)
3 a) State five Characteristics of Rural Non-Farm Occupations. (5marks)
 b) In four (4) different ways define occupations according to sociologists. (4marks)
 c) Describe four (4) challenges of rural development (6 marks)
4. a. Describe how culture serves as a pattern of influence in a village setting. (6 marks)
 b. Highlight two (2) importance of culture to a social system. (4 marks)
 c. Explain what you understand by generational gap? (5 marks)
5.a) Discuss five importance of the rural area as identified by Ekong (2003). (10 marks)
 b) Briefly explain five (5) economic impact of AIDS on Agriculture . (5 marks)
.
6 a) Outline four goals of Community Organization.(4marks)
 b) Describe six programmes that have been implemented for rural development in Nigeria. (8 mks)
 c) State three (3) importance of local leaders. (3marks)
DISCLAIMER
Pastquestionsforum is a global focused test-prep company. It is our duty to provide you with the most comprehensive study materials for your examination. Our study materials are focused on extensive analysis, input from previous test candidates, and, on occasion, official/privileged study materials made available by examination bodies and testing agencies.