Last Updated on February 18, 2021
Noun Past Questions For ARD308 – Principles of Cooperative Practices. Locate the download button below to download the Noun Past Questions for ARD308 – Principles of Cooperative Practices.
---
NATIONAL OPEN UNIVERSITY OF NIGERIA
FACULTY OF AGRICULTURAL SCIENCES
SECOND SEMESTER EXAMINATION OCTOBER/NOVEMBER, 2019
Programme: Agricultural Economics and Extension
Course Title: Principles of Cooperative Practices
Course code: ARD308
Credit Unit: 2
Time Allowed: 2 Hours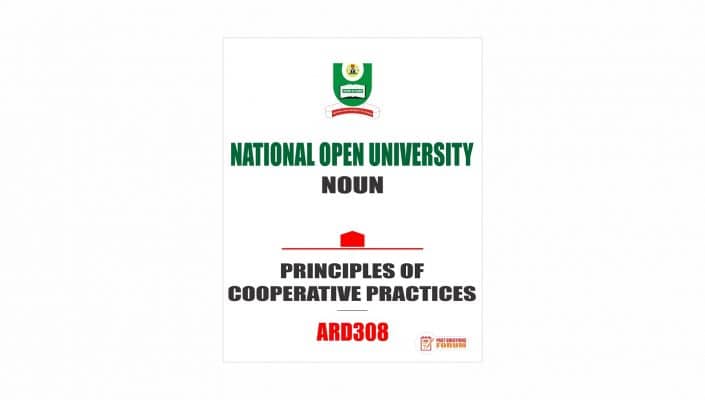 INSTRUCTION: Answer compulsory question 1 (25 Marks) and any 3 questions (15 marks each)
Question 1.
(a) Define capitalization. 3marks
(b) Discuss five (5)benefits of Agricultural cooperatives to farmers. 5marks
(c) Explain six (6) characteristics of cooperative leadership 6marks
(d) Explain loan collection techniques? 5marks
(e). Characteristics of a Good Plan 6marks
Question 2.
(a) State seven (7) factors why cooperatives fail 7marks
(b) Discuss the prevention of problem loan 8marks
Question 3.
(a) Discuss the procedures for issuing cooperative loans. 5marks
(b) List five (5) sources of loan to cooperatives 10marks
Question 4.
(a) Describe five (5) reasons why people join cooperatives 7 ½ marks
(b) Discuss the rules and disciplinary measures to prevent high delinquency rates 7½ marks
Question 5.
(a) Define cooperative leadership. 3marks
(b) Discuss how the following outside sources of capital help the cooperatives? 12marks
Question 6.
(a) Describe the following types of cooperatives:
i. Agricultural cooperatives 3marks
ii. Consumers cooperatives 3marks
iii. Multipurpose cooperatives 3marks
iv. Thrift and credit cooperatives 3marks
v. Salary earners cooperatives 3marks
---

DISCLAIMER
Pastquestionsforum is a global focused test-prep company. It is our duty to provide you with the most comprehensive study materials for your examination. Our study materials are focused on extensive analysis, input from previous test candidates, and, on occasion, official/privileged study materials made available by examination bodies and testing agencies.