Last Updated on May 3, 2023
NPA Past Questions.. Nigeria Police Academy Past Questions, POLAC Past Questions And Answers is available at Past Questions Forum. On this page we have uploaded the latest version of the Nigeria Police Academy POLAC past questions and answers. All individuals can now get the updated version of the POLAC past questions and answers. Download NDA PAST QUESTIONS And Answers
Nigeria Police Academy, NPA
The Nigeria Police Academy was established in the early 80s when the Nigerian government asked the British government to make available to Nigeria in 1981, some united Kingdom Police officers to evaluate the Nigeria Police's training needs.
A team of three British Police officers led by M.A., in response to this appeal. The British Government sent H Pacy (Assistant Chief Constable, Hamberside Police), to Nigeria. In 1982 the team submitted their report known as the pacy report. The report was officially published as the Federal Republic, of Nigeria's white paper on the Nigeria Police Force's future training needs. A follow-up of the pacy report's findings led to Nigeria Police's search for the best training orientation.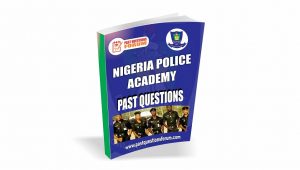 Polac Past Questions and Answers PDF Download 2022
The POLAC past questions and answers is compiled form past questions by the Nigerian Police Academy during her past screening interviews. The NPA Past Questions and answers has been uploaded on this page and students can now get a copy of this material by following the instructions below carefully. The advantages of getting the NPA Past Questions and answer has been discussed below as well.
Nigeria Police Academy, POLAC Past Questions 2022
The complete and updated past question for the  Nigeria Police Academy has been uploaded on this page. You can be in possession of this material by just hitting one button. The step by step procedures on how to get the material has been outlined on this page. Follow the steps carefully to download your material. Note that this material will be sent to your email address in PDF format. Follow the steps below to see how to download.
POLAC Exam Subjects
FACULTY OF HUMANITIES:
Government / History
Economics
Literature in English
FACULTY OF LAW
History / Government
IRS / CRS
Literature in English
FACULTY OF SCIENCE:
Biology
Chemistry
Physics
FACULTY OF SOCIAL AND MANAGEMENT SCIENCES:
Government
Economics
Benefits of Getting POLAC Past Questions
The NPA Past Questions and answers is so beneficial to individuals who will participate in the Nigeria Police Academy entrance examinations. This past questions contains past Nigeria Police Academy entrance examination questions. The past question is a guarantees success in the Nigeria Police Academy Examinations.
Free NPA Past Questions PDF Download
We have posted below the Nigeria Police Past questions and answers free of charge. Students are advised to go through the free version of the Polcac Past Questions and endeavor to make payment to get the complete and updated material. Note that this material will only be sent to your in a PDF format via your email address.
Question one Boko Haram abducted the Chibok School girls on………..
a. 14th August. 2013
b. 14th April 2014
c. 14th January 2015
d. 14th April 2015
Question two Which form of marriage recently stirred the international politics?
a. Court marriage
b. Sharia marriage
c. Gay marriage
Question three is the longest-serving Senate President of Nigeria.
a. Sen. Bukola Saraki
b. Sen. Chuba Okadigbo
c. Sen. Evans Enwerem
d. Sen. David Mark
Question four Which of these is an act of Aggression?
a. Dancing
b. Laughing
c. Violence
d. Clapping
Question five Who is the Speaker of the House of Representatives in Nigeria?
a. Sen. Godwills Akpabio
b. Hon. Femi Gbajabiahmila
c. Hon. Yakubu Doraga
d. Hon. Johnbull Shakarau
Question six The first regular course one Nigeria Police Academy took off in ?
a. June, 2010
b. June, 2011
c. September, 2013
d. September, 2011
Question seven Which of these is the lead internal security agency in Nigeria?
a. Nigeria Security and Civil Defence Corps
b. Nigeria Armed Forces
c. Nigeria Police Force
d. Directorate of Security Services
Question eight is a Nigeria town that is famous in blacksmithing work.
a. Ukum, Benue State
b. Awka, Anambra State
c. Ajeokuta, Kogi State
d. Wudil, Kano State
Question nine Which of these Nigerian states has the least numbers of local government Areas?
a. Nasarawa State
b. Delta State
c. Bayelsa State
d. Abia State
Question ten One of the actions listed below is not an offence in Nigeria?
a. Rape
b. Stealing
c. Cheating
d. Greetings
Question eleven Which one of these is not an effect of drug abuse?
a. Increase in Crime Rate
b. Frequent illness
c. Premature death
d. Promotion Of friends
Question twelve Nigeria was amalgamated in…………
a. 1914
b. 1930
c. 1916
d. 1960
Question thirteen Nigeria is currently in which Republic?
a. 5th
b. 1st
c. 4th
d. 6th
How to Get the POLAC Past Questions
To get the NPA Past Questions Simply click on GET PAST QUESTION NOW button to proceed. You will be direct to a page where you can make payments either online or via bank transfer. Simply select a payment option and click Pay Now to make payment.
Note that the past question will be sent to your email address in PDF format after payment. After receiving your past question, kindly rate our products and services and leave a review in the review tab. We respect your reviews and we use it to improve in our products and services.
Polac Frequently Asked Questions
DISCLAIMER
Pastquestionsforum is a global focused test-prep company. It is our duty to provide you with the most comprehensive study materials for your examination. Our study materials are focused on extensive analysis, input from previous test candidates, and, on occasion, official/privileged study materials made available by examination bodies and testing agencies.