Last Updated on October 19, 2022
GMAT Past Questions and Answers can be downloaded on this page. The GMAT Past Questions and answers contains all necessary information you need to pass the GMAT examinations. The study material is built in that you have a detailed knowledge about every information needed to pass the GMAT test. Such information include: What Is the GMAT® Exam?, Why Take the GMAT® Exam?, GMAT® Exam Format, What Is the Content of the Test Like?, Integrated Reasoning Section, Quantitative Section, Verbal Section, Analytical Writing Assessment, What Computer Skills Will I Need?, What Are the Test Centers Like?, How Are Scores Calculated?, Test Development Process.
Graduate Management Admission Test, GMAT
The Admission Test for Graduate Management is a computer adaptive test designed to assess certain analytical, writing, quantitative, verbal and reading skills in written English for use in admission to a graduate management program, such as an MBA program.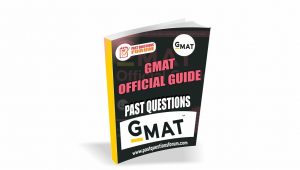 What Is the GMAT Exam
The GMAT ® (Graduate Management Admission Test ®) exam is a standardized exam used by over 6,500 graduate management programs worldwide in admissions decisions. It lets you gage your academic potential for success in graduate-level management studies, and show it to the colleges.
The four-part exam tests the skills in Analytical Writing, Verbal, Quantitative, and Integrated Reasoning — higher-order reasoning skills that the faculty of management worldwide has recognized as essential to incoming students. Skills in "higher order" reasoning include nuanced decisions, including logical thought, interpretation, and problem solving. In comparison to undergraduate grades and curricula, which differ in context across regions and institutions, the GMAT scores provide a standardized, statistically valid and accurate indicator of how you are likely to do academically in a graduate management program's core curriculum. The validity, fairness, and importance of the GMAT exam in admissions through numerous empirical studies has been well founded.
The GMAT exam is administered in English and exclusively on a computer. This is not a test of business understanding, mastery of subject matter, English vocabulary or specialized technical competencies. Also, the GMAT exam does not assess other performance factors in the study of graduate management, such as job experience, leadership capacity, motivation and interpersonal skills. The aim of your GMAT score is to be used as one admission criterion among other, more subjective, criteria, such as essays and interviews on admission.
Why Take the GMAT Exam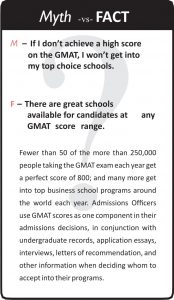 Launched in 1954 by a group of nine business schools to provide a standardized assessment of the academic skills required to be competitive in their programs, the GMAT exam is now used by over 6,500 graduate management programs at about 2,100 institutions worldwide.
Taking the GMAT exam will help you stand out in the admissions process and demonstrate your preparation and dedication to pursue graduate management training. Schools use GMAT scores to help them choose the most eligible applicants — because they know that candidates taking the GMAT exam are serious about graduating from a degree in business, so it's a established indicator of the potential of a student to excel in their chosen program. When deciding which programs to apply to, one may look at the use of the GMAT exam by a school as one quality measure. Schools using the GMAT test usually report score ranges or average scores in their class profiles, and you can also find these profiles useful in evaluating the academic quality of a school you are considering, and how well your examination performance correlates with that of the students participating in the program.
Regardless of how you do on the GMAT test, you can contact the schools that involve you to learn more and inquire how they use GMAT scores and other factors (such as your undergraduate grades, papers, and recommendation letters) in their admission processes. College admissions offices, blogs, and college-published documents are the main sources of knowledge when investigating where you may want to go to school for business.
Free GMAT Past Questions and Answers 2021
Below are some sample questions which you will find in the official GMAT Study Pack. The GMAT sample questions has been provided for all individuals who wish to take the GMAT test. You are advised to go through the sample questions below and ensure that you make payment to get the complete copy of the material.
Questions one Last month a certain music club offered a discount to preferred customers. After the first compact disc purchased, preferred customers paid $3.99 for each additional compact disc purchased. If a preferred customer purchased a total of 6 compact discs and paid $15.95 for the first compact disc, then the dollar amount that the customer paid for the 6 compact discs is equivalent to which of the following?
(A) 5(4.00) + 15.90
(B) 5(4.00) + 15.95
(C) 5(4.00) + 16.00
(D) 5(4.00 − 0.01) + 15.90
(E) 5(4.00 − 0.05) + 15.95
Question two A marketing firm determined that, of 200 households surveyed, 80 used neither Brand A nor Brand B soap, 60 used only Brand A soap, and for every household that used both brands of soap, 3 used only Brand B soap. How many of the 200 households surveyed used both brands of soap?
(A) 15
(B) 20
(C) 30
(D) 40
(E) 45
Question two A researcher computed the mean, the median, and the standard deviation for a set of performance scores.
If 5 were to be added to each score, which of these three statistics would change?
(A) The mean only
(B) The median only
(C) The standard deviation only
(D) The mean and the median
(E) The mean and the standard deviation
Question three John deposited $10,000 to open a new savings account that earned 4 percent annual interest, compounded quarterly. If there were no other transactions in the account, what was the amount of money in John's account 6 months after the account was opened?
(A) $10,100
(B) $10,101
(C) $10,200
(D) $10,201
(E) $10,400
How To Get GMAT Past Questions and Answers
To get the complete and updated version of the GMAT past questions and answers simply click on the GET PAST QUESTION NOW button and proceed to payment option page.
Payments can be made using bank transfer or with ATM debit card online. After making payment, the material will be sent to your email address in PDF format. If you have challenges click on the floating chart button on this page to start live chat with our representative.
DISCLAIMER
Pastquestionsforum is a global focused test-prep company. It is our duty to provide you with the most comprehensive study materials for your examination. Our study materials are focused on extensive analysis, input from previous test candidates, and, on occasion, official/privileged study materials made available by examination bodies and testing agencies.