Last Updated on November 11, 2021
NTI Postgraduate Past Questions NTI PGDE Past Questions and Answers – National Teachers' Institute Post Graduate Past Questions and Answers PDF Download Latest Version. NTI PGDE Past Questions and answers has been uploaded here for download in PDF format. All Candidates of the National Teachers' Institute are advised to get the latest version of the National Teachers' Institute, NTI PGDE Past Questions & Answers Now. This material is the only guarantee to pass the National Teachers' Institute Post Graduate
Download Also: POLAC Past Questions and Answers
About National Teachers' Institute, NTI
The National Teachers' Institute, Kaduna is a single mode distance education institution dedicated to teacher training. It was developed in 1976 by the Federal Government primarily because of the pressing needs in the country for trained and skilled teaching staff at all levels of the educational system.
Act No. 7 of 10th April 1978 establishing the Institute charged it among others with the responsibility of: providing courses of instruction leading to the creation, upgrading and certification of teachers as stated in the applicable syllabus using distance education techniques.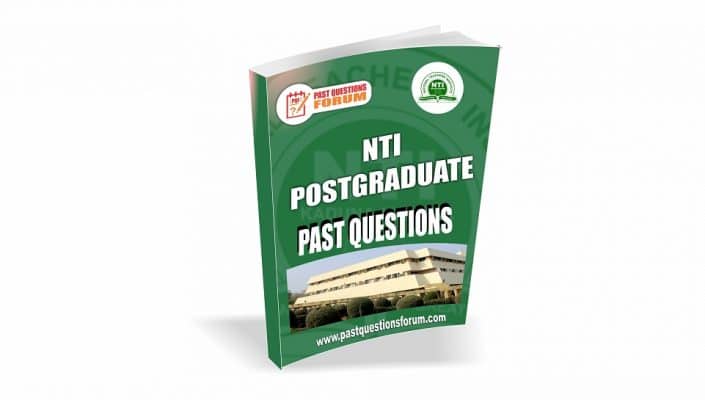 NTI Post Graduate Diploma in Education PGDE
The NTI PGDE is affiliated to National Open University of Nigeria (NOUN)
The goals of the programme are to:
help students have an adequate understanding of the philosophical, psychological and sociological foundations of Education and their importance to teaching and learning in schools;
help students acquire the required general and subject-specific pedagogical skills for teaching in primary and secondary schools;
provide opportunities for the acquisition of practical skills in the school setting through a cycle of supervised internship / monitoring.
Applicants for admission into the Postgraduate Diploma in Education programme are required to hold a minimum of a First degree (BA / B.Sc), Higher National Diploma (HND) or its equivalent in languages, social sciences, natural sciences or other related disciplines with a minimum of 2nd Class Lower Division or Lower Credit respectively, in addition to that, a applicant must meet the UTME requirements.
NTI PGDE Past Questions and Answers 2021
The NTI Postgraduate past questions and answers is available for download and up to date. All applicants are advised to get this material as it is the ultimate guarantee to pass the NTI postgraduate examination. Getting this material will expose you the nature of NTI Postgraduate questions. You will also get to know the number of questions NTI do set per subject. Scroll down to see how to get this material. Below are some of the available courses.
CURRICULUM DESIGN AND DEVELOPMENT PDE 104
DEVELOPMENTAL PSYCHOLOGY PDE 102
GENERAL METHODS IN EDUCATION PDE 103
GUIDANCE AND COUNSELING PDE 112
HISTORY OF EDUCATION PDE 101
MEASUREMENT AND EVALUATION IN EDUCATION PDE 105
MICRO TEACHING PDE 111
PHYLOSOPHY OF EDUCATION PDE 107
PSYCHOLOGY OF EDUCATION PDE 106
RESEARCH METHODS IN EDUCATION PDE 108
SOCIOLOGY OF EDUCATION PDE 109
STATISTICAL METHOD IN EDUCATION PDE 110
Benefits of the NTI Postgraduate Past Questions and Answers
Benefits of the NTI postgraduate past questions and answers include:
Helps identify key subject areas to focus on in revision.
Helps practice exam techniques;
Helps understand likely exam time length;
Helps work out time required for each question;
Identifies number of choices provided;
Identifies style of exam questions (short-answer, multiple choice or essays);
Indicates typical number of questions;
Free NTI PGDE Past Questions and Answers
Below is a free version of the NTI PGDE past questions. To get the complete and updated version of this material, kindly make payment by following the instructions below. Note that you can only have access to this material after successful payment
General Instructions
a. This is a two (2) Credit Course.
b. Answer four (4) questions in all.
C. All questions carry equal marks.
---
Question one
a. Define Core Curriculum
b. Explain any five (5) characteristics of the core-curriculum
Question two
Write short notes on the following:
i. Subject-Centred Curriculum;
ii. Activity-Centred Curriculum;
iii. Child-Centred Curriculum;
iv. Hidden-Curriculum.
Question three
a. What is evaluation?
b. Explain the term "Continuous Assessment"
c. Identify and explain four (4) functions of continuous assessment in curriculum implementation.
Question four
a. Differentiate between syllabus and scheme of work
b. Explain the importance of each to the teacher in the process of implementing curriculum.
c. Using a subject of your choice, draw a selected scheme of work
Question five
Briefly explain the elements/components of curriculum.
Question six
List and explain the factors that negatively affect the implementation of curriculum in school
How to Get NTI PGDE Past Questions and Answers
To get the latest version of the NTI post graduate past questions and answers, simply click on the GET PAST QUESTION NOW and you will be directed to our payment option page where you will make payment. Note that payments can be made either online using your ATM card or via bank transfer. After successful payment, the material will be sent to your email address in a PDF format.
For quick transfer, an account details has been posted on this page after the first paragraph. Kindly make payment to the account and follow instructions to get your material.
NTI PGDE Frequently Asked Questions
nti pgde modules download
nti exam question 2018
national teachers institute past question papers
nti pgde course materials pdf
pde 701 history of education
nti pgde second semester modules
nti course material pdf
edu 716 past questions
DISCLAIMER
Pastquestionsforum is a global focused test-prep company. It is our duty to provide you with the most comprehensive study materials for your examination. Our study materials are focused on extensive analysis, input from previous test candidates, and, on occasion, official/privileged study materials made available by examination bodies and testing agencies.