Last Updated on October 19, 2022
Dragnet Past Questions And Answers has been uploaded on this page All individuals who wish to work in Dragnet Solutions can now get the Dragnet recruitment past questions and answer here. The Dragnet Solutions aptitude test interview questions and answers contains past questions which was set by the Dragnet solutions during the past interviews. We have provided you with the latest version of the Dragnet past questions and answers, all you need to do is, simply follow instructions on this page to get a copy of the past question.
Dragnet Solutions
Dragnet Solutions is Nigeria's leading recruiting company specializing in designing, creating and implementing creative' talent recognition and screening solutions' that are ideal for both the workplace and the educational space.
At the turn of the century, Dragnet Solutions emerged from Nigeria, where it pioneered solutions that led to the eradication of pre-employment screening tests based on Paper.
Dragnet applications have grown to include simulation software with a remarkable data collection to predict suitability of positions, interests, learning styles and recognize differences in talent.
Over the years, our experience has placed us as the screening standard.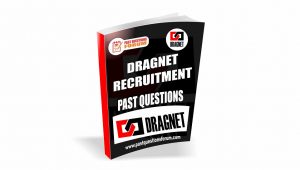 Dragnet Past Questions
Question one Salvador Dali's work is more popular than Andre Breton's output.
The Correct Answer is True – This can be inferred from the passage. Breton was a French surrealist poet and the surrealist's written work is described as "less easily accessible", compared to the "popularity" of Dali's paintings.
Question two Some experimental writing is surreal.
The Correct Answer is True – Some of the surrealists from whose work the word is derived practiced experimental writing.
Question three Surrealist painting is renowned for the arbitrary portrayal of everyday objects.
The Correct Answer is True False Cannot say True – As the sixth sentence of the passage describes.
Question four Salvador Dali was a French surrealist painter.
The Correct Answer is Cannot say – The passage mentions Dali, as well as emphasising the movement's French focus, but does not link the two together. In fact Dali was Spanish.
Question five At one time Dadaism and Surrealism were closely affiliated.
The Correct Answer is True – The passage notes that Surrealism "grew out of Dadaism.
How to Download Dragnet Recruitment Past Questions And Answers
To download the complete version of the Dragnet aptitude test interview questions, hit the GET PAST QUESTION NOW button and proceed to payment option page to make payment. Payments can be made via mobile transfer and also with your ATM debit card online. You can as well copy the account details after selecting the bank branch payment option to the bank for payment.
After downloading the Dragnet Past Questions from your email address, kindly leave a review and and rate our products and services. Note that your review is what we use to improve in our services
DISCLAIMER
Pastquestionsforum is a global focused test-prep company. It is our duty to provide you with the most comprehensive study materials for your examination. Our study materials are focused on extensive analysis, input from previous test candidates, and, on occasion, official/privileged study materials made available by examination bodies and testing agencies.