Last Updated on July 15, 2021
ExxonMobil Aptitude Test Past Questions… Download the latest version of ExxonMobil Past Questions and Answers now in PDF format. Did you apply for a job position at Exxon Mobil? Do you wish to get the latest ExxonMobil job interview past questions and answers? If yes, then you are at the right page. We have compiled the ExxonMobil aptitude test past questions and answers with detailed solutions. Follow all instructions on this page to get your material. You can also get the Oil and Gas past questions here.
Download Also Shell Job Interview Past Questions
About ExxonMobil
ExxonMobil, one of the world's largest publicly traded energy suppliers and chemical producers, develops and implements next-generation technologies to help meet the rising demands of energy and high-quality chemical products worldwide in a healthy and responsible manner.
Energy access is the foundation of human comfort, mobility, economic prosperity and social progress. It influences just about every aspect of everyday life. Through its long history of more than a century, ExxonMobil has grown from a small kerosene marketer to an international oil and chemical innovator, and one of the world's largest publicly traded firms.
An industry leader in almost every area of the energy and chemical manufacturing sector, we operate facilities or sell goods in most countries around the world, exploring on six continents for oil and natural gas, and researching and designing next-generation innovations to help meet the dual challenge of boosting global economies and addressing the risks of climate change.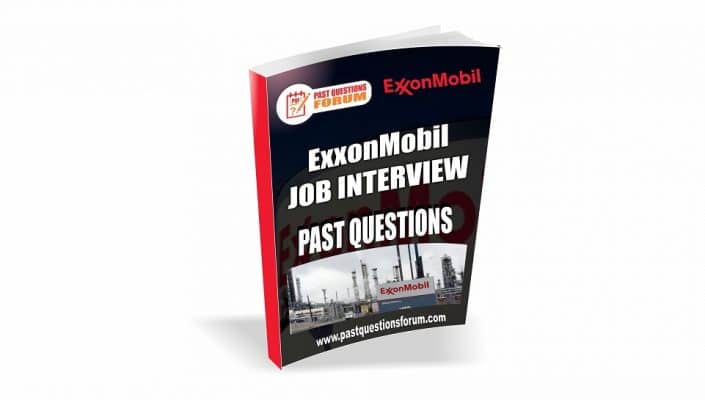 ExxonMobil Assessment Tests
Step 2 of the recruiting process for ExxonMobil requires several pre-employment assessments.
You can consider any or all of the following measures but it depends on the role you are applying for. The following evaluation assessments usually take a minimum of 4.5-5 hours to complete.
Numerical Applications: It checks the numerical reasoning, including difficulties with math terms covering simple operations such as multiplication and division.
Checking Data Accuracy: This checks the ability to interpret graphical maps, as well as answer questions.
Mechanical Aptitude: This tests your mechanical abilities and your ability to identify simple mechanical vocabulary words by selecting the best multiple-choice interpretation.
Use of Information: It checks your ability to think and involves word problems that allow you to speculate or draw conclusions from insufficient knowledge.
Personality test: It will test your attitude towards the job. As with other job personality assessments, you will be asked to rate claims about your work actions on a 5-point scale from "Strongly Disagree" to "Strongly Agree."
When you don't complete the online exams on ExxonMobil, you'll need to wait at least two years to retake the evaluations.

Test planning is also crucial to your potential work with ExxonMobil. Prepare on your ExxonMobil test with the tools of JobTestPrep for all the subjects.
How to Pass ExxonMobil Job Aptitude Test
In order to prepare for the online ExxonMobil exam, you need to practice with our exclusive material to obtain the requisite software, practice resources and score reports to feel ready for the exam.
Be confident and calm!
Focus on one test question at a time
Get plenty of rest the night before the test
Have a positive attitude and relax
Look over your answers at the end of your test
Make sure to check the location and time of the test
Read through the test instructions
ExxonMobil Aptitude Test Past Questions PDF 2021
The ExxonMobil job aptitude test past questions and answers is available for all applicants who wish to be employed at ExxonMobil. All applicants are strictly advised to get this material as they prepare for the ExxonMobil screening/interview examinations. This material gives job seekers an insight on how ExxonMobil do set their questions. You will also get to know the subject combinations for the ExxonMobil screening examination.
ExxonMobil Past Questions and Answers
The ExxonMobil past questions and answers has been compiled from from different years since Exxon Mobil began interview examinations and available for download here. The material contains Reading Comprehension, Numerical Application, Use of Information, Checking/Data Accuracy, Mechanical Aptitude, Current Affairs, History, Basic Oil & Gas Knowledge. A step by step guide has been provided below. Scroll down and follow directives.
Learn the full ExxonMobil test experience and gain a deeper understanding than our free tests permit. Check out our extensive PrepPacksTM which will train you for the most rigorous pre-employment assessment. You will pave the way for a good career at ExxonMobil by investing in our capital.
Free ExxonMobil Past Questions
We have also provided a free version of the ExxonMobil past questions and answers for your consumption. Note that, in order to get access to the complete material, you will be required to make payment and you will get the material directly to your email address after payment
Questions one Employee Classification / Compartmentalization
In addition to the permissions of each individual class, each employee holds the permissions to floors and servers of all classes of a lower number than his/hers.
Class 1 – May access floors 1-3 and any file on server Z.
Class 2 – May access floor 4 and any file coded green on server Y.
Class 3 – May access floors 5-6 and any file coded yellow on server Y or coded green on server X.
Class 4 – May access all floors and all files.
Mark Payne has access to floor 4 and to a file coded red on server Z. Mark is classified at least at:
A. The situation is impossible
B. Class 2
C. Class 3
D. Class 4
Explanation:
The correct answer is (B).
Question two If the left cogwheel rotates in the direction of the arrow, in which direction does the right wheel rotate?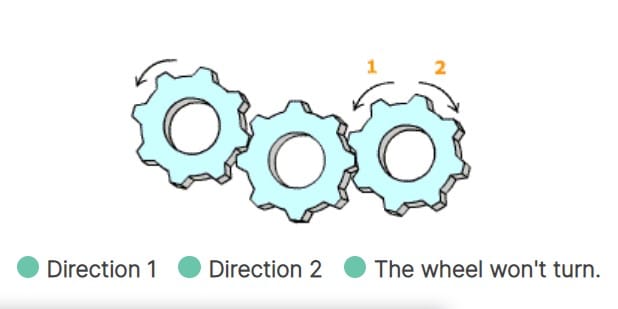 ExxonMobil Interview Tips
Answering the problem of an ExxonMobil interview will be simpler if you practice with our interview training kit in advance.
Some interview tips include:
Answer questions with confidence
Clearly state your reply and address the main point
Maintain good body language
Research the company beforehand
Show your soft skills (leadership, teamwork, problem-solving, and communication abilities)
Take deep breathe, smile, and be yourself!
Use the STAR method for behavioral questions
How to Get Mobil Job Interview Past Questions
To get the latest version of the ExxonMobil past questions and answers, simply click on the GET PAST QUESTION NOW button and you will be directed to our payment option page. Kindly fill in your personal details and click on place order to make payment.
For quick transfer, an account details has been posted after the first paragraph. Simply make payment to the account and follow instructions to get your material.
ExxonMobil Frequently Asked Questions
exxonmobil aptitude test past questions pdf
dragnet questions for exxonmobil
exxonmobil skill test questions
exxonmobil aptitude test 2019
mobil internship past questions
mobil producing nigeria unlimited aptitude test
dragnet past questions for exxon mobil
DISCLAIMER
Pastquestionsforum is a global focused test-prep company. It is our duty to provide you with the most comprehensive study materials for your examination. Our study materials are focused on extensive analysis, input from previous test candidates, and, on occasion, official/privileged study materials made available by examination bodies and testing agencies.