Last Updated on December 10, 2022
Download Oil And Gas Job Interview Questions And Answers here… Individuals who have applied for recruitment exercises of various oil and gas companies in Nigeria are all advised to get the Oil and Gas past questions and answers here. Note that this page provides you with the latest Oil and Gas test questions as well as the answers, Scroll down to see how to download your interview past questions and answers. Download NNPC Past Questions and answers.
Benefits of Oil And Gas Job Interview Questions
The oil and interview questions and answers is so important for those that have applied for oil and gas recruitment in Nigeria. This past questions introduces individuals to the areas of study while preparing for the oil and gas interview/examination. Getting this material is a great guarantee to pass the oil and gas interview examination. Individuals who get the material while they prepare for their interview examination are likely to smile home after their examinations. Therefore is highly necessary that you get this material. Scroll down to see how to download.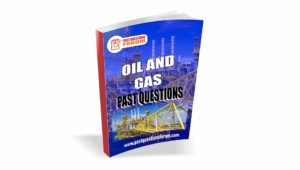 Oil and Gas Past Questions 2021
The Oil and Gas interview questions is a compilation of past questions conducted by oil and gas industries in Nigeria. This material has been compiled from different years since the oil and gas industry began interview. The material contains past questions which will help you while preparing for your interview examination. This material also covers NIPCO oil and gas past questions so those that are preparing for NIPCO oil and gas aptitude test can also purchase this material. All individuals are strictly advised to follow instructions on this page to get their material. Note that this material is not free of charge. The price for this material has been boldly written before this post. Follow this instructions below to make payment. After making payment for the material, you will get the material sent to your email address. Ensure you leave a rating and a review in the review section.
Samples of General Oil And Gas Job Interview Questions And Answers PDF
Below is a free sample of this interview question, kindly go through the questions below and ensure you make payment to get the complete and updated version of this material. Note that this material will be sent to you in PDF format after successful payment.
Question one What is the dominant component of natural gas?
a. Oxygen
b. Hydrogen
c. Methane
d. Nitrogen
Question two About how many gallons of gasoline are produced from one barrel of crude oil?
a. 55
b. 19
c. 42
d. 5
Question three What is a well drilled in an area without previous oil or gas production known as?
a. Wildcat
b. Tomcat
c. Newbie
d. Offset Well
Question four Nigeria's first shipload of liquefiedpetroleum gas (LPG) to the world market was in ……..
A. 1958
B. 1997
C. 1967
D. 1988
E. 1977
Question five The countries that will be in the first stage of the West African gas pipeline project are
A. Nigeria, Cameroun, Togo, Benin
B. Benin, Chad, Niger, Nigeria
C. Benin, Togo, Ghana, Nigeria
D. Niger, Nigeria, Benin, Togo
E. Ghana, Chad, Benin, Togo
Question six The federal government of Nigeria has set a deadline of year…. when routine gas flaring in the nation's oil field must stop.
A. 2010
B. 2004
C. 2008
D. 2020
E. 2005
Question seven In what year was the Nigerian liquefied gas (NLNG) final investment decision (fid) signed? A. 1994
B. 1992
C. 1995
D. 1996
E. 1998
Question eight Greenhouse effect is…………
A. Presence of carbon (iv) oxide in the atmosphere
B. Presence of methane
C. Increase in the mean global temperatures as a result of increase in the concentration of certain gases
D. Effect of green vegetable when grown inside a house
E. Solar energy passing through green vegetation.
Question nine What is one ton of LNG equivalent to?
A. 15 barrels of LNG
B. 18 barrels of LNG
C. 520 cubic metres of natural gas
D. 16 barrels of crude oil
E. ½ ton of coal
Question ten At present most of the natural gas produced in Nigeria is
A. Re-injected for secondary recovery
B. Flared
C. Converted to LNG
D. Converted to fuel
E. Sent to Nigerian Gas Company Eleme
How to Download General Oil And Gas Interview Questions
To get a copy of this material, kindly click on GET PAST QUESTION NOW button and proceed to payment option page to make payment. Individuals can make payment either online using their ATM debit card online or via bank transfer using their mobile phone.
After downloading your past question from your email address, kindly rate our product and services and leave a review in the review tab. Note that we use customers reviews to improve our product and services. Note that we use customers reviews to make improvements on our products and services.
Oil and Gas Frequently Asked Questions
DISCLAIMER
Pastquestionsforum is a global focused test-prep company. It is our duty to provide you with the most comprehensive study materials for your examination. Our study materials are focused on extensive analysis, input from previous test candidates, and, on occasion, official/privileged study materials made available by examination bodies and testing agencies.