Last Updated on May 14, 2023
The RSUST Post UTME Past Questions and Answers is available here. If you have applied for admission at the Rivers State University of Science and Technology, RSUST you are advised to take the information on this page seriously. On this page we will introduced the latest version of the Rivers State University of Science and Technology, RSUST Post UTME Past Questions and answers for all faculties. Follow the steps below to get the latest version of the RSUST Post UTME Past Questions for the 2021-2022 academic session. You can also Download UNIPORT Post UTME Past Questions
About Rivers State University of Science and Technology, RSUST
The Rivers State State University of Science and Technology (RSUST) was founded in October 1980 from the Rivers State College of Science and Technology which was established in 1972 itself. It is located in Port Harcourt, capital of Rivers State , Nigeria, at Nkpolu-Oroworukwo. It is Nigeria's first Technological University, and the first state-owned State University in Nigeria's Delta region. The motto of the University is "Excellence and Creativity". The University has a staff strength of 1,870 and a population of 29,939,15000 students. The University ranks among 80 other Universities in Nigeria as the 16th 12th.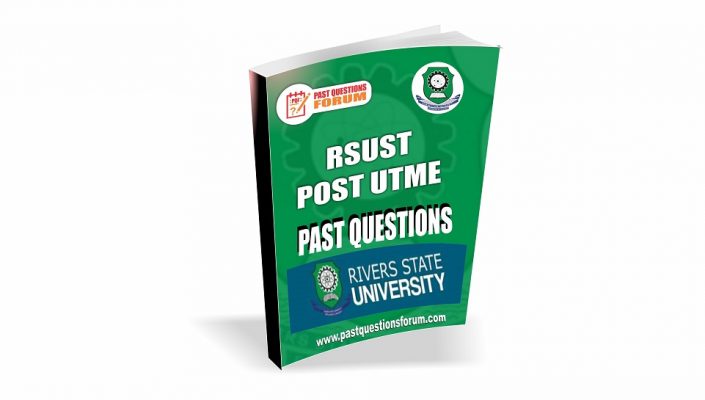 RSUST Post UTME Past Questions and Answers PDF Download 2021-2022
The Rivers State State University of Science and Technology (RSUST) post utme past questions for the 2021-2022 academic session has been uploaded on this page for download. All interested candidates are advised to follow the instructions below to get their copies of the material. The material contains RSUST Post utme Past Questions and Answers for Faculties of Law, Arts and Humanities, Social Sciences, Management Sciences, RSUST Post utme Past Questions and Answers for Faculties of Basic Medical Sciences, Engineering, Education(Science), and Environmental Sciences. Once payment is made the material will be forwarded to your email address immediately.
Check out other Post UTME Past Questions and Answers for other Institutions
The Nature of RSUST Post UTME Examination
It is highly important that every student get to know the nature of RUST post utme examination before going in for the examination. Students who fail to put this into consideration may definitely get surprised at what they ma see.
First thing to understand is that RSUST Aptitude Test is going to be a computer-based test. So, if you don't already want to avoid surprises, you need to learn how to use a desktop, you know that kind of thing you hate.
You have to study extensively because your exam date isn't going to be the same with your friends. There is no room for examination malpractice, so you should get your RSUST Post UTME Past Questions and Answers copy to avoid surprises.
You'll have an hour less to do justice to all of the issues. Let's say you've got to solve math questions, how are you going to beat this time if you don't practice the past questions.
You should note that the subjects you will sit for will come from your course of choice. Most importantly, you should know that English is a subject that everyone will write in addition to other subjects required for their study course.
Benefits of RSUST Post UTME Past Questions and Answers
The Rivers State State University of Science and Technology (RSUST) is a highly competitive university. Only a small portion of the total number of students applying for admission to the university wins. The Past Questions are the secret to successful student selection.
We've discovered that Rivers State University of Science and Technology (RSUST) has repeated its past questions over the years. If you get this past question, you'll be better equipped in one sitting to pass the RSUST Post-UTME and be among those chosen for admission.
So, we assure you that the questions you get when you buy this RSUST Past Questions and Answers are real past questions that you're likely to encounter on the day of the exam.
Free RSUST Post UTME Past Questions
Below is the free version of the Rivers State State University of Science and Technology (RSUST) you can go through the free version of the material and endeavor that you make payment to get access to the complete material. Note that the complete version of the RSUST past questions will be sent to you in a PDF format after payment.
RSUST  ENGLISH QUESTIONS
Choose the option opposite in meaning to the word(s) or phrase in italics.
Question one Common sense requires that one should be decorous at formal gatherings.
A courteous
B careful
C impolite
D incurious
Question two The string was taut
A stretched
B loose
C firm
D tight.
Question three The diminutive figure bounces over the track with unfathomable lightness.
A irresistible
B predictable
C invigorating
D impressive.
Question four The teacher announced that the class would be making a fleeting visit to the Zoo.
A long
B routine
C brief
D guided
Question five We intend to make the reception a diurnal event.
A an annual
B a weekly
C a nightly
D a short.
RSUST  BIOLOGY QUESTIONS 
Question one The random way genes recombine during meiosis and fertilization leads to
A genetic variation
B phenotype
C genome
D genotype
Question two In a cell, the genes are carried by
A Nuclear membrane
B Chromatin threads
C lysosomes
D Mitochondria
Question three An ecosystem is composed of all of the following except:
A Plants
B Animals
C Temperature
D Meadows
Question four In a food web, tertiary consumers belong to which trophic level
A First
B Second
C Third
D Fourth
Question five The primary structure responsible for pumping blood for circulation through the mammalian circulatory systems is the
A Veins
B Right auricle
C Arteries
D Left ventricle
RSUST CHEMISTRY QUESTIONS 
Question one Which of the following is an acidic salt?
A NaHSO4
B Na2SO4
C CH3CO2Na
D Na2S
Question two Given that the molecular mass of iron is 56 and that of oxygen is 16, how many moles of iron (III) oxide will be contained in 1kg of the compound?
A 12.5moles
B 0.625moles
C 25moles
D 6.25moles
Question three 3.0g of a mixture of potassium carbonate and potassium chloride were dissolved in a 250cm3 standard flask.25cm3 of this solution required 40.00cm3 of 0.01M HCl for neutralization. What is the percentage by weight of k2CO3 in the mixture? (k = 39, O = 16, C = 12)
A 92
B 89
C 72
D 82
Question four 0.499g of CuSO4.XH2O when heated to constant weight gave a residue of 0.346g. What is the value of X?
A 2.0
B 3.0
C 5.0
D 4.0
Question five The principal constituents of natural gas is
A methane
B ethane
C propane
D butane
How to Get the RSUST Post UTME Past Questions and Answers 
To get the latest version of the RSUST past questions and answers, all candidates should click on the GET PAST QUESTION NOW  button and proceed to our secured payment page. On getting there you will be required to fill in your personal details. Select a payment option and hit the Place Order button to make payment.
After successful payment, the material will be sent to your email address immediately.
DISCLAIMER
Pastquestionsforum is a global focused test-prep company. It is our duty to provide you with the most comprehensive study materials for your examination. Our study materials are focused on extensive analysis, input from previous test candidates, and, on occasion, official/privileged study materials made available by examination bodies and testing agencies.