Last Updated on January 2, 2023
Download the latest version of YABATECH Post UTME Past Questions and Answers here. YABATECH past Questions has been uploaded on this page. Students of YABATECH can now get the updated version of the Yaba College of Technology, YABATECH Post UTME past questions and answers. All procedures to download this past question is buried on this page. Follow the steps below to make a stress free download of the YABATECH Past Questions and answers. Download FUTO Post UTME Past Questions
Yaba College of Technology, YABATECH
Yaba College of Technology, popularly known as YABATECH, was established in 1947, YABATECH is the first high school in Nigeria. It is in the town of Yaba, Lagos. It has an enrollment of more than 16,000 students. YABATECH is located at Pen cinema, Agege, Agege, Lagos.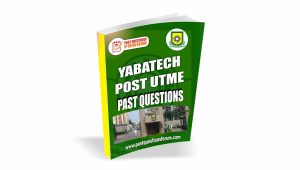 YABATECH Post UTME Past Questions and Answers
Below are some samples of YABATECH Post UTME past questions. Click on the button below to download the complete material.
From the words Lettered A-D, choose the word that has the same consonant sound(s). as the one represented by the letter(s) underlined.
Question one Chance
a sachet
b starch
c moustach
d nonchalant
Question two See
a Wise
b cows
c His
d peace
Question three Was
a Devise
b Converse
c Reverse
d nice
Question four Vision
a Pension
b Tension
c Collusion
d Attention
Question five Barrage
a Storage
b Camouflage
c Passage
d Attention
Instructions: In each of the following sentences there is one word underlined and one gap from the list of words A to D choose the word that is most nearly opposite in meaning to the underlined word and which will correctly fill the gap in the sentences.
Question six Bayo purchased various articles at the big sale the Trade Fair Complex, and surprisingly enough he all before
he reached home that day.
a destroyed
b bought
c sold
d distributed
Question seven Petrol prices in Nigeria should be uniform throughout the whole country, but they from place to place.
a alternate
b modify
c differ
d adjust
Question eight The applicant got two jobs at once so he had to accept one and the other.
a turn off
b turn out
c turn down
d turn away
Question nine In this argument, Ade was my supporter, even though he is often my in other matter.
a opponent
b enemy
c proposer
d opposite
Question ten The store keeper was so dishonest that the manager revoked his appointment and ordered his —————-
a joblessness
b disappointment
c rejection
d dismissal
How to Get the Complete YABATECH Post UTME Past Questions
To get the latest version of the YABATECH Post UTME Past Questions, click on the button below to start download. Note that this file will be download in a PDF format.
DISCLAIMER
Pastquestionsforum is a global focused test-prep company. It is our duty to provide you with the most comprehensive study materials for your examination. Our study materials are focused on extensive analysis, input from previous test candidates, and, on occasion, official/privileged study materials made available by examination bodies and testing agencies.