Last Updated on July 15, 2021
Uniport Post UTME Past Questions For Science is available with detailed solution. Download the latest version of the University of Port Harcourt Post UTME Past questions and answers for science here. Note that our material has been updated up to the latest version i.e 2019. Get your copy now.
UNIPORT Post UTME Past Questions and Answers for Science PDF Download 2021
University of Port Harcourt, UNIPORT Post UTME and answer is available for science faculties as said earlier. This material has been compiled from previous question right from when uniport started post utme till date. Student should note that this material is not free of charge. The price for this material has been written before this post. See how to get material below.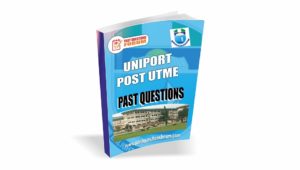 Free UNIPORT Post UTME Past Questions for Science
Below is a free version of the University of Port Harcourt past questions for science. You will be given full access to the complete material after payment.
Question one A diverging lens forms an image of an object placed 10cm in front of it, at a point 6.5cm from the lens. What is the focal length of the lens?
A. 18.6cm
B. 16.5cm
C. +3.9cm
D. 21.2cm
Question two Which colour of white light deviates most from the original path when light is incident on a piece of glass?
A. red
B. blue
C. yellow
D. orange
Question three Which of the following statement correctly defines temperature?
A. temperature causes hotness
B. the total energy of a body is measured in temperature
C. temperature is the property of the body which determines whether it is in thermal equilibrium with another body
D. thermometers measure temperature
Question four The following set of instrument is used for temperature measurement?
A. alcohol thermometer, calorimeter and thermocouple
B. pyrometer, thermocouple and clinical thermometer
C. barometer, resistance thermometer and viscometer
D. none of the above
Question five A pin is placed at the bottom of a beaker 80mm high and completely filled with petrol, when viewed from the top, the pin appears to be at a depth of 60mm, what is the refractive index of the petrol?
A. 1.80
B. 1.50
C. 1.33
D. 1.5
Question six A converging lens can be used as a magnifying glass if the object is placed
A. at F
B. between F and the pole
C. at the pole
D. at 2F
Question seven A converging lens of focal length F, forms a real image whose size is the same as that of the object. The object distance is equal to
A. 4F
B. 2F
C. F
D. F/2
Question eight When the generation is required from an ac generator, the slip-rings are replaced by a commutator which is made up of
A. a split ring
B. two split-rings
C. two copper brushes
D. two insulating coils
Question nine In semiconductors the Hall Effect can be used to identify
A. transistor
B. the carrier either electrons or holes
C. charge densities and concentrations
D. the generation of emf
Question ten In transformers the primary and secondary coil are wound on a
A. laminated hard iron core
B. permanent magnet
C. laminated soft iron core
D. insulated magnet
How to Get the UNIPORT Post UTME Past Questions for Science
To get the complete and updated version of this material, Hit the GET PAST QUESTION NOW button and you will be directed to our secured payment option page. Payment can be made either by transfer or with your ATM card. At the completion of a successful payment, the material will be sent to your email address in a PDF format
DISCLAIMER
Pastquestionsforum is a global focused test-prep company. It is our duty to provide you with the most comprehensive study materials for your examination. Our study materials are focused on extensive analysis, input from previous test candidates, and, on occasion, official/privileged study materials made available by examination bodies and testing agencies.