Last Updated on May 30, 2022
The Nigerian Customs past questions is necessary for candidates who have applied for the customs recruitment. NCS Past Questions now available for download. Are you looking for the Nigerian Customs Service past questions and answers? Did you apply for the Nigerian Customs recruitment and you need their past questions and answers to prepare for their screening examinations. Are you on this page and need solution to the above questions. You get solution to your findings simply follow the instructions to get your copy of the NCS past questions and answers in PDF format. We have also provided a copy of the ncs free past questions and answers on this page.
Nigerian Customs Service NCS
Nigerian Customs is a branch of the Nigerian government. They are also in charge of managing the country's import levels. In addition to clearing and sending goods, customs personnel handle documentation operations. You must pass the Nigerian Customs recruiting test if you want to work for this organization. As a result, we have all of the resources you'll need to succeed.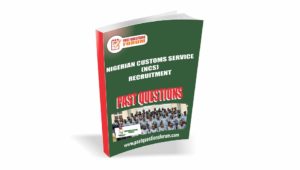 Nature of the Nigerian Customs Service Interview Examination
There is a pattern to the Nigerian customs recruitment test. As a result, in addition to a physical drill, you'll be writing a few tests.
To begin, there is an English part. This section assesses your writing and speaking skills.
Second, you have a section dedicated to current events. Your understanding of the company's history will come in handy here.
Finally, the organization will conduct drills to assess your physical fitness.
How to Pass Nigerian Customs Service Examination
You can use a variety of methods to prepare for your customs examinations. However, the majority of them have the potential to fail you.
As a result, we have a proven technique that has been used by successful applicants. Our Nigerian Customs recruitment test past questions material contains this strategy.
How to Check the Nigerian Customs Service Exams Result
It is important that every candidate who has applied for the Nigerian Customs recruitment and has written the exams know the procedures on how to check his or her NCS Result. You'll need to check your rusult when you've finished the tests. As a result, you should be aware that if you pass the NCS screening test, the Nigerian Customs Service will notify you via your mail.
Free Nigerian Customs Service NCS Sample Questions 2021
Below is a free version of the custom question and answer . Note that the questions below are just sample questions. The complete and updated version of this material can only be available to you after successful payment.
Question one cool Tin is majorly found in
(a) Jos
(b) Enugu
(c) Kano
(d) Imo
---
Question two Who was the first General of Nigeria Customs Service Past Questions and Answers?
(a) Ndi Okereke Onyiuke
(b) Musa Bello
(c) T.A. Wall
(d) E.D. Hermit
---
Question three Which of the following is not a directorate in the Nigeria Customs Service?
(a) Customs Tarrif and Trade
(b) Customs Ivestigation Directorate
(c) Customs Inspection Directorate
(d) Customs Import and Export
---
Question four Which of the following may be regarded as a regional organization
(a) ECOWAS
(b) OAU
(c) UN
(d) OPEC
---
Question five How many deputy comptrollers does the Nigeria Customs Service have
(a) 6
(b) 3
(c) 5
(d) 4
---
Question six When was the Nigeria Customs Service inaugurated?
(a) 1981
(b) 1964
(c) 1980
(d) 1891
---
Question seven The first military head of state was
(a) Yakubu Gowon
(b) Aguiyi Ironsi
(c) Olusegun Obasanjo
(d) Ernest Shonekan
---
Question eight Oil can be found in one of the following state in Nigeria
(a) Lagos
(b) Anambra
(c) Ondo
(d) Ekiti
---
Question nine The Computer Based (CBT) Promotion Examination was implemented under whose regime?
(a) Hameed Ali
(b) Shehu Musa
(c) Abdullahi Dikko
(d) Aliyu Mustapha
---
Question ten Oil was first discovered by Shell-BP in Nigeria ___________
(a) Oloibiri
(b) Idanre
(c) Warri
(d) Kabba
---
Do I Really Need the Nigerian Customs Past Questions?
It is highly recommended that candidates/applicants get the Nigerian Customs Service Recruitment past questions and answers as it will help applicants make full preparation for their screening examinations on the day of screening. You will also get to understand the nature of the NCS Exams.
How to Get the Customs Exam questions and Answers
To get a copy of the nigeria custom exam questions and answers , kindly hit the GET PAST QUESTION NOW button and you will be direct to our secured payment option page. You will be required to fill in your personal details in the order form, select a payment method and hit the place order button to make payment. After successful payment, the downloadable file will ne sent to your email address
DISCLAIMER
Pastquestionsforum is a global focused test-prep company. It is our duty to provide you with the most comprehensive study materials for your examination. Our study materials are focused on extensive analysis, input from previous test candidates, and, on occasion, official/privileged study materials made available by examination bodies and testing agencies.