Last Updated on March 16, 2023
Did you apply for job at the Sterling Bank? Do you nee the Sterling Bank past questions to prepare to the Sterling Bank interview/test? See below how to get the Sterling Bank recruitment past questions and answers. The Sterling Bank past questions has been complied in PDF format for download. To get access to this material you just have to follow the instructions below to get your material.
About Sterling Bank PLC
The central bank of Nigeria is accredited to Sterling Bank Plc, which is a full-service national commercial bank. Its shares are listed under the Nigerian Stock Exchange Banking Sector with the STERLNBANK symbol. It is listed as STERLNB.LG and STERLNBA: NL on the Reuters and Bloomberg terminals, respectively. The Sterling Bank wan founded on 25 November 1960 and has her headquarters located in Lagos.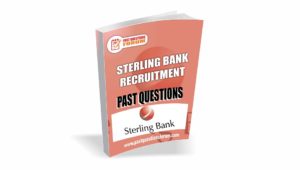 Sterling Bank Past Questions and Answers PDF 2021
The sterling bank past questions and answers is a compilation of past interview conducted by the management of the Sterling Bank PLC during her past recruitment interview. The sterling bank aptitude test 2021 past questions comprises of Verbal Reasoning, Numerical Reasoning, Current Affairs, History and General Knowledge. To get the sterling bank interview questions follow the steps below.
Nature of Sterling Bank Interview Exam Questions
The Sterling bank interview examination is usually Computer-Based. The aptitude test examination usually has four sections. These four sections include;
Critical Reasoning: A Critical Reasoning test, also known as a critical reasoning test, evaluates the ability to reason objectively through an argument and reach an objective conclusion. You may therefore need to assess the situation, recognize the assumptions made, create hypotheses, and evaluate the arguments.
Verbal Reasoning: Generally, the Verbal Reasoning Test tests your ability to understand and understand written passages. Most of the time, verbal reasoning tests usually take the form of a written passage followed by a series of questions with possible True, False or Cannot Say answers.
Numerical Reasoning: Numerical reasoning tests your ability to coordinate and correctly interpret numerical data. In addition, you will need to analyze and draw conclusions from the data that can be presented in the form of tables or graphs. Each test comes in a multi-choice format.
Abstract Reasoning: The Abstract Reasoning test seeks to measure your lateral thinking and fluid intelligence with the aim of finding the precision and speed at which you can identify and interpret the relationship between the collection of shapes and patterns.
Sterling Bank Shortlisting Process
Once you have been selected, you will be asked to meet with a member of the Executive Management Team for the final selection process.
After your final interview, you will be offered a place in the Sterling Bank Graduate Trainee Foundation School Program, where you will be trained and tested on the practical, social and technical aspects of the Bank. Upon your success at school, you will be offered a job at the bank.
Free Sterling Bank Past Questions 2021
The Sterling Bank past questions and answers has been uploaded on this page for free. Applicants can now go through the free sample of the Sterling Bank past questions below. To get the complete and updated version of this past question, follow instructions below on how to pay and the past questions will be delivered to your email address after payment.
Sterling Bank Sample Questions 2021
This is just a sample questions it is not the complete material. See how to get the complete material below.
Question one  A and B enter into a partnership investing N12,000 and N16,000 respectively. After 8 months, C also joins the business with a capital of N15,000. The share of C in a profit of N45,600 after two years is
(a) N12,000
(b) N14,400
(c) N19,200
(d) N21,200
(e) None of these
Question two LYING
(a) sleeping
(b) dishonest
(c) relaxing
(d) remaining
(e) untruthful
Question three  75 × 18 + ?% of 150 = 1380
(a) 25
(b) 20
(c) 12
(d) 16
(e) None of these
Question four Directions: Choose the word which is most similar in meaning to the word printed in bold as used in the passage.
4. SPEND
(a) pay
(b) bought
(c) devote
(d) settle
(e) empty
Question five  93. 22% of ? + 30% of 420 = 192
(a) 330
(b) 350
(c) 200
(d) 280
(e) None of these
How to Get The Sterling Bank Past Questions
To get the complete material of the latest version of the this material,  simply click on the GET PAST QUESTION NOW button and make payment either online using your ATM card or you can make payment directly by bank transfer using your mobile phone. After making a successful payment your requested past questions will be sent to your email address in PDF format for download.
After getting your past questions, kindly rate our product and leave a review in the review tab above. We appreciate reviews from our customers.
DISCLAIMER
Pastquestionsforum is a global focused test-prep company. It is our duty to provide you with the most comprehensive study materials for your examination. Our study materials are focused on extensive analysis, input from previous test candidates, and, on occasion, official/privileged study materials made available by examination bodies and testing agencies.