Last Updated on January 18, 2023
The Nigeria Police Force past questions and answers is available on sale. to download or get a copy of the latest version of the NPF past questions and answers you are advised to follow the instructions here. Proceed to get the Nigeria Police Force past questions
Nigeria Police Force, NPF
The principal law enforcement agency in Nigeria is the Nigeria Police Force. The Nigeria Police Force, NPF has a staff deployment across the thirty six states in Nigeria including the Federal Capital Territory (FCT). The Nigeria Police Force is directed and managed by the Police Inspector General. NPF has been divided into seven administrative departments, viz. Finance and Administration; Operations; Logistics; Force Criminal Investigation Department; Training; Research and Planning; and Information and Communication Technology for administrative ease. each headed by a Deputy Inspector General of Police.
The Nigeria Police Force is Nigeria's principal law enforcement agency with about 371,800 staff strength. Currently there are plans to increase the force to 650,000, adding 280,000 new recruits to 370,000 existing ones.
Agency executive: IGP Adamu Muhammed, Inspector-General of Police
Founded: 1930
General nature: Local civilian police; Local civilian agency
Governing body: Ministry Of Police Affairs
Motto: Police is your friend
Population: 174.2 million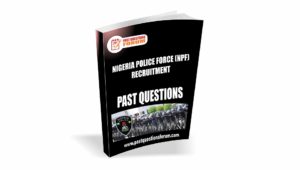 Benefits of NPF Recruitment Past Questions and Answers
It should come to your notice that a lot of people has applied for the Nigeria Police Force, NPF recruitment past questions and answer and it only takes hard work and commitment to be among the few that will be selected and that is why we have compiled the NPF past questions and answers to guide you on some questions you will likely see during the Nigeria Police Force, NPF screening examinations.
The latest and updated version of the NIgeria Police Force recruitment past questions has been uploaded on this page. Candidates can now download the updated version of the NPF past questions with detailed solutions.
NPF Recruitment Past Questions and Answers PDF Download
To get your own copy of the up to date npf recruitment past questions, follow the instructions below to proceed. Note that this material is not free and will be sent to you in a PDF format after payment. We have posted a free version of the nigeria police past questions. You can go through the free version of the material and ensure that you make payment in oder to get the complete version of this material.
NPF Past Questions And Answers PDF
1. What is the full meaning of NPF?

ANSWER: Nigeria Police Force

2. What is the Nigeria police force motto?

ANSWER: the police are your friends

3. When was Nigeria Police Force(NPF) established?

ANSWER: 1930

4. What are the objective of Nigeria Police Force?

ANSWER: The Nigeria police force objective is to enhance the quality of life in our country by working in partnership with the community and in accordance with constitutional rights to enforce the laws, preserve the peace, reduce fear and provide for a safe environment.

5. Who is the present Chief of Defence Staff?

ANSWER: Major Gen. Abayomi Gabriel Olonisakin

6. What is the full Meaning of IGP?

ANSWER: Inspector General of Police

7. What is the name of Nigeria Police Force IGP?

ANSWER: IGP Solomon Arase
How To Get the Nigeria Police Past Question and Answers
To get the latest version of the Nigeria Police Force, NPF recruitment past questions and answers, simply click on GET PAST QUESTION NOW button and proceed to payment option page to make payment. Payments can be made using bank transfer or with your ATM debit card online. Note that all past questions from this site is usually sent to customers email address after payment.
After downloading you past questions, kindly rate our products and services and leave a review in the review tab as well. Note that customers reviews is what we use to improve our products and services.
DISCLAIMER
Pastquestionsforum is a global focused test-prep company. It is our duty to provide you with the most comprehensive study materials for your examination. Our study materials are focused on extensive analysis, input from previous test candidates, and, on occasion, official/privileged study materials made available by examination bodies and testing agencies.