Last Updated on January 23, 2021
Do you need the JIM OVIA (MUSTE) Scholarship Past Questions and answers? Did you apply for MUSTE Scholarship application? This site will provide you with the latest version of MUSTE Scholarship Past Questions and answers. You will also get to know the benefits of getting the complete past questions regarding MUSTE Scholarship. Download Also: MTN Scholarship Past Questions
About MUSTE Scholarship
The Jim Ovia Scholars Program was founded since 1998. The Scholarship program is funded by Mr. Jim Ovia. The aim and objective of the scholarship program is to provide financial aid to outstanding Nigeria youths. The Jim Ovia Scholars program scholarship was previously known as the MUSTE scholarship. Eligble awardees are supported for their undergraduate and graduate study for the duration of their program and includes tuition and maintenance allowances. The scholarship scheme makes provision for an average of 100 opportunities each year for new applicants while renewing applicants are supported annually, conditional on meeting all eligible requirements of the scholarship. Mr. Ovia has invested over 100 Million Naira in the program since October 2010 to support 1500 beneficiaries and counting.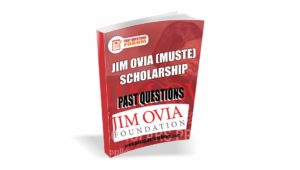 Benefits of Getting The Past Questions
The key benefit of getting this past question is to get fully prepared for the MUSTE Scholarship examination. All candidates who applied for the MUSTE Scholarship and get a copy of the scholarship past question, can proudly say that he or she can pass the scholarship examination. Therefor it is highly recommended that candidates get the complete and updated copy of the scholarship past questions.
Key Features of MUSTE Scholarship Past Questions
Current Affairs/World Records
Numerical Aptitude
Quantitative Reasoning
Verbal Reasoning
Verbal/Reading Comprehension
MUSTE Scholarship Sample Questions 2021
Question one  A is twice as good a workman as B and together they finish a piece of work in 18 days. In how many days will A alone finish the work?
A. 31 days
B. 25 days
C. 27 days
D. 29 days
Question two Find the odd one out
A. Hard : Soft
B. Long : High
C. Sweet : Sour
D. Pointed : Blunt
Reading Comprehension
Question three If the value of x lies between 0 & 1 which of the following is the largest?
A x
B x2
C -x
D 1/x
Question four The first mechanical computer designed by Charles Babbage was called
A. Abacus
B. AnalyticalEngine
C. Calculator
D. Processor
How to Get JIM OVIA Scholarship Past Questions
To get this scholarship complete questions, simply click on the GET PAST QUESTION button and proceed to payment page.
Payment Options
Payments can be made by selecting one of the following options:
Pay with ATM Card: (This can be archived by using you ATM debit card to pay online)
Pay via bank transfer: (This can be archived by using your mobile phone to make payments)
What Do You Do Next
After receiving your past question via your email address simple encourage us by rating our products and services and also leaving a review in the review tab above.
DISCLAIMER
Pastquestionsforum is a global focused test-prep company. It is our duty to provide you with the most comprehensive study materials for your examination. Our study materials are focused on extensive analysis, input from previous test candidates, and, on occasion, official/privileged study materials made available by examination bodies and testing agencies.