Last Updated on October 20, 2022
Download you copy of the Total Scholarship Past Questions and answers now. Individuals who have applied for Total scholarship application are advised to get the scholarship past questions and answers. The Total past questions is a compiled E-book in PDF format. This scholarship past questions contains all necessary questions which will help you through the Total Scholarship examination process. Download also NNPC/Chevron Scholarship Past Questions
About the Total Scholarship
Yearly, the Nigerian National Petroleum Corporation (NNPC) and Total Upstream Companies in Nigeria (TUCN): Total Exploration & Production Nigeria Limited (Total E&P Nig Ltd) and Total Upstream Nigeria Limited (TUPNI), and also with their venture partners, usually organize scholarship awards yearly to Nigerian students in tertiary institutions in Nigeria.
The aim of the Total Scholarship award pregramme is to promot academic excellence and quality manpower development in Nigeria. This has been proven to one of the ways TOTAL demonstrates its commitment to the educational development of Nigerian students. The scholarship award scheme is part of TOTAL's rich Corporate Social Responsibility.
Outstanding Benefits of Total Scholarship Past Questions
This past questions and answers is a lot of benefits to the Total scholarship applicants. The under listed are a few we would talk about.
The scholarship past question helps individuals understand the likely exam time length
The past question Indicates typical number of questions you are likely to see
This questions Identifies number of choices provided
This past question helps work out time required for each question
The past question identifies style of exam questions (short-answer, multiple choice or essays)
This past question helps practice exam techniques
It helps identify key subject areas to focus on in revision.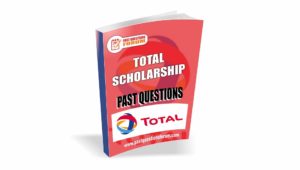 Total Scholarship Past Questions and Answers 2021
The total scholarship past questions and answers has been uploaded on this site. All individuals who are preparing for the scholarship examinations are advised to get this material for proper preparation. The material contains total scholarship exam questions which may likely repeat itself in the upcoming examination. This material guarantees success in the exams. we have also posted a free version of the scholarship past questions. Note this is just a sample copy.
Free Total Scholarship Past Questions (Sample Questions)
Below is the free version of the Total Scholarship Past questions and answers. Note that the complete version of this material will be sent to you only after payment.
Question one The current secretary general of the United Nations Organization is
A. Mr. Banki-Moon
B. Kofi Anan
C. Emeka Anyaoku
D. Hillary Clinton
Question two Communicating expectations and measurements relating to performance standards occurs during this function of management.
A. planning
B. leading
C. controlling
D. organizing
Question three The resources within an organization, used to achieve its goal, make up the _________ of a business.
A. external environment
B. workers motivation
C. internal environment
D. social responsibility
E. planning
Question four  Clue is related to Mystery in the same way as Warning is related to …
A. Disaster
B. Precaution
C. Risk
D. Danger
Question five …..document issued by a carrier which details a shipment of merchandise and gives title of that shipment to a specified party
A. Ship Documents
B. Bill of lading
C. Merchants List
D. Clearance and Forwarding Receipts
How to Get The Scholarship Past Question
To get the latest version of the Total past questions simply click on GET PAST QUESTION button and make payment. Payments can be done either by bank transfer or using your ATM  debit card. After making a successful payment you receive your past questions instantly.
What to Do After Getting Your Past Question
After receiving your past question simply rate our product and services and leave a review as well in the review tab above.
Related Past Questions
DISCLAIMER
Pastquestionsforum is a global focused test-prep company. It is our duty to provide you with the most comprehensive study materials for your examination. Our study materials are focused on extensive analysis, input from previous test candidates, and, on occasion, official/privileged study materials made available by examination bodies and testing agencies.