Last Updated on July 18, 2021
Download the NITDA Postgraduate Scholarship Past Questions and answers now. Individuals who have participated in the NITDA scholarship application are highly advised to get their copies of the National Information Technology Development Agency (NITDA) scholarship past questions and answers. This past questions is a compiled PDF document which will guide students on the areas to touch while preparing for their National Information Technology Development Agency (NITDA) scholarship examinations. Individuals should read instructions below in order to have access to this past question.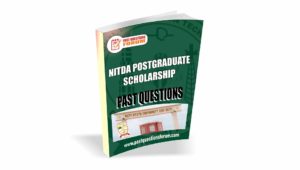 NITDA Postgraduate Scholarship Sample Past Questions 2021
Question one Which of the following, represents the memory types in decreasing order of their accessing speed?
A. RAM, ROM, Cache, Magnetic tape, Hard disk
B. Cache, RAM, ROM, Hard disk, Magnetic tape
C. Magnetic tape, Hard disk, RAM, ROM, Cache
D. Hard disk, Cache, Magnetic tape, ROM, RAM
Question two What programming language is used to create programs like applets?
A. COBOL
B. C Language
C. Java
D. BASIC
Question three The first computer virus was called
A. Rabbit
B. Creeper virus
C. Elk Cloner
D. SCA Virus
Question four Which of the following is not an example of a utility program?
A. Backup software
B. Operating system
C. Anti-virus software
D. Software
Question five The first search engine on the internet is
A. Google
B. Archie
C. Altavista
D. WAIS
Recent research indicates that a significant minority of hedge fund managers misrepresent their fund's performance to investors during due diligence investigations. Although in some instances the discrepancies were due to managers' unfamiliarity with procedures and legal processes, in half the case manager verbally stated incorrect information. These findings can only be a further blow to an already battered industry.
Question six Most hedge fund managers give accurate information.
A True
B False
C Cannot Say
D False/true
Question seven Most of the discrepancies are based on an error in judgment.
A True
B False
C Cannot Say
D False/true
Question eight Due diligence investigations can be considered a misnomer in many cases.
A True
B False
C Cannot Say
False/true
Question nine Half of the managers are not sufficiently cognisant of the facts.
A True
B False
C Cannot Say
D False/true
Question ten Until this report, investment management was a highly respected business.
A True
B False
C Cannot Say
D False/true
How to Get NITDA Scholarship Past Questions
To get the latest version of the NITDA Scholarship past questions and answers click on the GET PAST QUESTIONS NOW button and make payments either online using your ATM debit card or direct transfer using you mobile phone.
What to Do After Getting Your Past Questions
After getting your past questions simply rate and review our products and services. Note: your reviews is so important to us.
DISCLAIMER
Pastquestionsforum is a global focused test-prep company. It is our duty to provide you with the most comprehensive study materials for your examination. Our study materials are focused on extensive analysis, input from previous test candidates, and, on occasion, official/privileged study materials made available by examination bodies and testing agencies.