Last Updated on January 12, 2023
Nigerian students can now download the FSB Scholarship Past Questions here. The Federal Government Scholarship past questions is available for download. All individuals who have applied for the Federal Government Scholarship Board Scholarship are all advised to get the latest version of the FSB Scholarship past questions. You can now follow the easy steps on this page to make a stress free fsb past questions pdf download
Download FSB Undergraduate Scholarship Past Questions
Click on the button below to download the Federal Scholarship Board Undergraduate past questions and answers
Note that this scholarship past questions is for Postgraduate only click on the button above to download FSB Undergraduate Scholarship Past Questions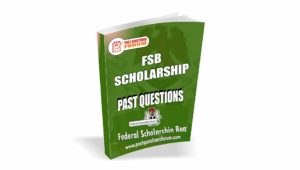 Federal Government Scholarships
The Federal Government of Nigeria provides the Bilateral Educational Agreement (BEA) Oversea Scholarships to Nigerian undergraduates, masters and doctoral students through the Federal Ministry of Education through the Federal Scholarship Board.
The BEA Awards are scholarship awards given by development partners to deserving Nigerian youth who have entered into a bilateral education agreement with Nigeria after due process. Equally Nigeria gives reciprocal awards to residents of the following countries of the Bilateral Education Agreement: China, Romania and Cuba.
Usually annually, the Honorable Minister of Education (HME) invites interested and qualified Nigerians to participate in the Bilateral Education Agreement (BEA) Nomination Interview Award held in Russia, China, Morocco, Turkey, Algeria, Romania, Serbia, Japan, Ukraine, Cuba, Greece, Czech Republic, Syria, Macedonia, Egypt, Tunisia, etc.The Federal Ministry of Education Overseas Scholarships are for Graduate, Master and PhD students from Nigeria.
Through the Federal Ministry of Education through the Federal Scholarship Board, the Federal Government of Nigeria provides local scholarships to Nigerian undergraduates, masters,  and  doctoral  students who are studying within Nigeria at one institution or another.
Features of FSB Past Questions
Analogy
Arithmetic
Current affair
English Language
IT
Quantitative Reasoning and
Verbal Reasoning
FSB Scholarship Past Questions 2021
Question one You need to book two rooms which between them will seat 72 people. Which of the options given below would offer this at the lowest price?
A. Haydn & Lennon
B. Brahms & Haydn
C. Brahms & Lennon
D. Dylan & Haydn
E. Brahms & Dylan
Question two You have booked the Dylan Room for five days with lunch and refreshments for 43 people but have to increase this to 49 people so you will use the Lennon Room instead. How much more will these changes cost you?
A. 8960
B. 860
C. 940
D. 1440
E. 188
Question three You book the Verdi Room for four days and are given a 25% discount on Lunch and Refreshments (but not on the Room Hire). If you have total budget of €8,100 to cover the cost of the room, Lunch and Refreshments, how many delegates could you afford each day if you have to buy them Lunch and Refreshments?
A. 72
B. 78
C. 54
D. 110
E. 90
Question four You have to book three rooms for three days that will seat a total of 107 people between them each day. You also need refreshments for the first two days and lunch and refreshments on the third for all 107. What is the cheapest you can get this for if you have a voucher offering a 5% discount on the Lennon Room (but not for food and refreshments) for all three days?
A. 6913
B. 6085
C. 7983
D. 5015
E. 5136
Benefits of FSB Scholarship Past Questions
We all know that only proper preparation determines exams success. Therefore you can't pass an examination without preparing for it. The Federal Government Board Scholarship past questions has been compiled to enable students prepare well for FSB Scholarship examination. The scholarship past questions comprises of past FSB Scholarship questions. By getting the Federal Scholarship Board past questions and answers, you can now stand out to say that you have prepared fully for the FSB examinations.
How to Get FSB Past Questions
To get the FSB past questions, simply click o GET PAST QUESTION NOW button and proceed to payment option page to make payment.
Payment Options
Payments can be made using your ATM card to pay online or using your mobile phone to do a mobile transfer. Your can also copy account details from this site to the bank for payment
After downloading the FSB Scholarship Past Questions from your email address, kindly rate our products and services and leave a review, Note that your reviews is what we use to improve our products and services 
DISCLAIMER
Pastquestionsforum is a global focused test-prep company. It is our duty to provide you with the most comprehensive study materials for your examination. Our study materials are focused on extensive analysis, input from previous test candidates, and, on occasion, official/privileged study materials made available by examination bodies and testing agencies.