Last Updated on July 18, 2021
Get the complete and updated copy of the Shell Scholarship Past Questions and answers in PDF format with ease. This page contains the current version of the Shell scholarship questions and answers. All you need to do is just follow instructions on this page to get a copy of your past questions.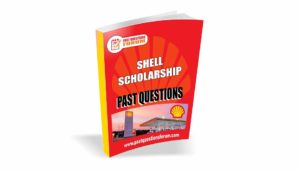 Shell Scholarship Past Questions and Answers 2021
The shell scholarship past questions and answers is a compilation of the past scholarship past questions conducted by the management of shell. This material is a complete guide for candidates who have applied for the shell scholarship scheme. The steps to get this material has been outlined below. Scroll down to see how to download the stress free shell scholarship past questions and answers pdf.
Kindly note that this scholarship past questions is not free of charge. The price for this material has bee written down boldly before this post.
Is Shell Scholarship Past Questions Necessary?
It should be noted that the Shell scholarship past questions and answers is necessary to have because it gives you a clearer view of how the Shell examination questions will look like. Individuals should note that 60% of the questions do repeat and as such getting a copy of the past questions guarantees you to pass the examination.
Shell Scholarship Sample Questions
Question one If in a certain language, GAMBLE is coded asFBLCKF, how is FLOWER coded in that code?
A. HNQYGT
B. GMPVDS
C. GKPVFQ
D. EMNXDS
Thebar chart shows the surface area that 1 litre of different types of paints willcover.
Question two A is twice as good a workman as B and together theyfinish a piece of work in 18 days .In how many days will A alone finish thework?
A. 27
B. 26
C. 25
D. 24
Question three Five racing drivers, Alan, Bob, Chris, Don, and Eugene,enter into a contest that consists of 6 races. The results of all six races arelisted below: Bob always finishes ahead of Chris. Alan finishes either first orlast. Eugene finishes either first or last. There are no ties in any race. Every driver finishes each race. In each race, two points are awarded for afifth place finish, four points for fourth, six points for third, eight pointsfor second, and ten points for first. If Frank enters the third race andfinishes behind Chris and Don, which of the following must be true of thatrace?
A Eugene finishes first.
B Alan finishes sixth.
C Don finishes second.
D Frank finishes fifth.
E. Chris finishes third.
Question four Find the odd one out
A. Den
B. Roof
C. Burrow
D. Nest
How to Download The Shell Past Questions And Answers
To get the latest version of the Shell past questions and answers simple click on the GET PAST QUESTION button and make payment either by bank transfer or using your ATM card on the site. After making payments the past questions will be sent to your email address in PDF format for download.
After downloading your material from your email. Kindly leave a rating and a review on the review tab. Note that we use customers reviews to make improvements on our products and services.
DISCLAIMER
Pastquestionsforum is a global focused test-prep company. It is our duty to provide you with the most comprehensive study materials for your examination. Our study materials are focused on extensive analysis, input from previous test candidates, and, on occasion, official/privileged study materials made available by examination bodies and testing agencies.