Last Updated on May 14, 2022
NDDC Scholarship Past Questions for CHEMICAL ENGINEERING…The NDDC Scholarship Test Past Questions And Answers for CHEMICAL ENGINEERING is available now for download. Did you apply for the NDDC Scholarship and selected CHEMICAL ENGINEERING category? If yes this information will help you during your preparation for the examinstions. We have fully compiled the NDDC Scholarship past questions and answers and updated it to the latest version. Note that this particular material is strictly for those who selected CHEMICAL ENGINEERING category during their application. Download NDDC Scholarship Test Past Questions for Other Categories.
About NDDC Scholarshp
The NDDC was founded in 2000. This aim is to be accomplished by the NDDC postgraduate scholarship scheme. In order to promote the rapid, even and sustainable development of the Niger Delta into an economically prosperous, socially secure, ecologically regenerative and politically peaceful region.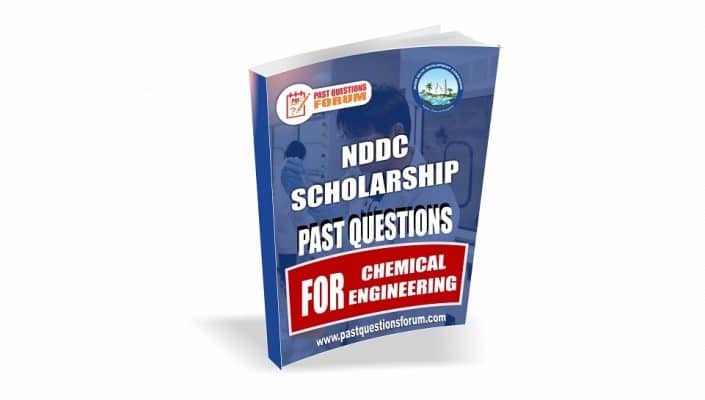 The NDDC Scholarshp Programme
The International Postgraduate Scholarships NDDC program is One of the NDDC initiatives. The goal of the scholarship scheme is to equip Niger Deltans with adequate training and skills to participate effectively in the current administration's local content program, as well as to compete globally in various professional fields.
The Complete 2022/2023 Updated Past questions and answers kit for the selection test for NDDC Overseas scholarships (for CHEMICAL ENGINEERING Category). This research pack gives you access to: Detailed questions of experience from previous years. Tests on Paper 1 and 2. General papers and assessments unique to the discipline. Continuous updating of any new details available to assist you in the application test for the scholarship. For another course group, do you need the NDDC questions for other category? CLICK HERE
NDDC Scholarship Past Questions for CHEMICAL ENGINEERING PDF
The NDDC Scholarshp past questions and answer is available here for applicants who selected CHEMICAL ENGINEERING. The material has been fully compiled and updated to the latest version. This study material (NDDC Scholarship Test Past Questions And Answers for CHEMICAL ENGINEERING) will help you prepare faster and adequately for your best performance in the test. This study pack contains: All the official NDDC (MSc) Scholarship Aptitude Test Past questions and answers, Well structured official past questions for CHEMICAL ENGINEERING Discipline, Free current affairs ebook (Worth N1000), The complete cinfores questions bank from where questions were drawn. Detailed Oil and Gas industry study note, and most importantly, beyond the aptitude test stage, You will be getting our exclusive copy of NDDC scholarship interview guide with insider tips on how to pass the interview stage with ease.
Nature of NDDC Scholarshp Exams
Between 2010 and 2015, the NDDC overseas scholarship evaluation was carried out by Cinfores-Ltd. The tests have been carried out by MEIL (MARG Educational International Limited) since 2016.
The NDDC Scholarshp test usually comprises of two sections which are General questions which everyone will have to sit, and Discipline-based questions.
In engineering and science-related disciplines, for example, applicants may take a mix of science-based questions such as mathematics, English, physics and chemistry for part 1, then discipline specific questions for part 2.
The NDDC tests containeds more discipline specific tests and English language test as general paper. The duration of the test is between 30 to 60 minutes.
How to Get the NDDC Scholarshp Past Questions and Answers
You should be convinced by now… Take action now by clicking on the GET PAST QUESTION NOW button and you will be directed to a page where you will fill in your personal details and make payment. After successful payment, the material will be sent to your email address in a PDF format.
DISCLAIMER
Pastquestionsforum is a global focused test-prep company. It is our duty to provide you with the most comprehensive study materials for your examination. Our study materials are focused on extensive analysis, input from previous test candidates, and, on occasion, official/privileged study materials made available by examination bodies and testing agencies.