Last Updated on December 16, 2022
The Accion Microfinance Bank Past Questions and answers is available for download now in PDF format. All individuals who applied for job opportunities at ACCION are all advised to get the ACCION job interview questions here. We have fully compiled the ACCION interview questions and updated it to the latest version. For support, locate the Whatsapp support button somewhere on this page. Download Also AB InBev Past Questions
About Accion Microfinance Bank
Accion Microfinance Bank was founded in 2006 and in May 2007, Accion MfB Limited started operations under license from the Nigerian Central Bank.
Complemented by the experience of our technical partners, ACCION International, our management team consists of experienced and distinguished professionals from different backgrounds.
Our core principles, market strategy and methodology at Accion MfB distinguish us as one of Nigeria's leading microfinance banks.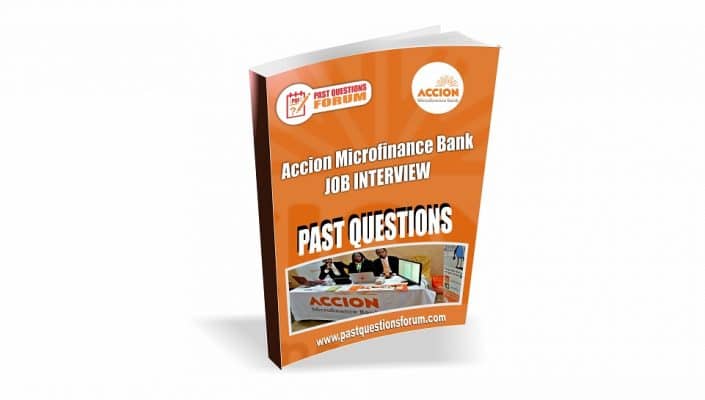 Accion Microfinance Bank Past Questions & Answers PDF 2022
This selection aptitude test study pack (Accion Microfinance Bank Past Questions & Answers) will help you plan faster for your best results.
A vital part of your training tactics is to practice previous years' papers in order to do your best. Solving these will help you understand the pattern of the test, understand the level of difficulty and, finally help you build the best plan for training. The study pack contains Quantitative reasoning, Verbal reasoning and Logical/general reasoning questions.
Nature/Format of ACCION Aptitude Test 
The Accion job interview exam question comes in the following format:
First Stage is getting to know you better. The first stage comprises of 10 situation judgment tests (Questionnaire) to complete in 10 minutes.
Second Stage: This stage involves the cognitive assessments (Quantitative, Verbal and Logical reasoning tests). The assessment will be in 2 sessions (Aptitude test and IQ test). You will answer the questions on a Tab provided at designated access bank offices nationwide.
Third Stage is the assessment day. The third stage is the final stage where you'll face an interview panel, take on group exercises and case presentations.
Note that: Your speed and accuracy in answering the questions is key to your success in Accion Bank Job Aptitude test.
How to Get the Accion Microfinance Bank Aptitude Test Past Questions 
To get this material, kindly hit the GET PAST QUESTION NOW  button page and fill in your personal details and proceed to payment page. After successful payment, the material will be sent to your email address in a PDF format.
DISCLAIMER
Pastquestionsforum is a global focused test-prep company. It is our duty to provide you with the most comprehensive study materials for your examination. Our study materials are focused on extensive analysis, input from previous test candidates, and, on occasion, official/privileged study materials made available by examination bodies and testing agencies.