Last Updated on January 2, 2023
DPR Aptitude Test Past Questions and Answers… Get the latest and updated version of the DPR Aptitude test past questions with detailed solutions. All individuals who took part in the Department of Petroleum Resources, Dpr recruitment exercise and are preparing for the Department of Petroleum Resources, Dpr online examinations are pleased advised to ensure that they get the DPR online past questions and answers which is available here. The material has been fully compiled and up to date. See also TestMi Oil and Gas Past Questions
About Department of Petroleum Resources, DPR
The Department of Petroleum Resources ( DPR) is a department under the Federal Ministry of Petroleum Resources (FMPR) of Nigeria. The DPR is legally responsible for ensuring compliance with oil rules , regulations and guidelines in the oil and gas industry. The discharge of these duties involves supervision of activities at drilling sites, generating wells, production platforms and flow stations, terminals for the export of crude oil, refineries, storage depots, pumping stations, retail outlets, any other locations where petroleum is either stored or sold. The department regulates the upstream and downstream sectors of the petroleum industry in Nigeria as part of its operations.
The Federal Government of Nigeria is implementing National Production Monitoring Systems (NIPMS) to track all petroleum organizations in Nigeria for royalty payables and demand notices. The department is headed by the Director of Petroleum Resources, who is the head of management. At the present period (2016), Engr. The director at DPR is Auwalu Sarki. The DPR is accountable to the FMPR.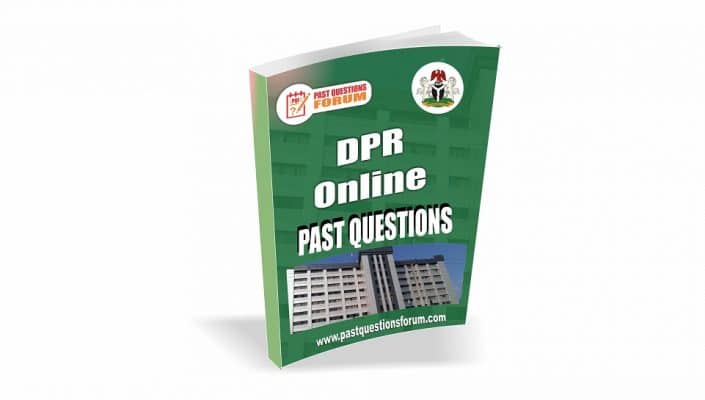 Department of Petroleum Resources, DPR Past Questions and Answers
The Department of Petroleum Resources ( DPR) past questions and answers is available here for download. We advise that you follow the steps outlined on this page to get your material. We have also posted here a free version of the material so you could know what the questions look like.
Nature of the Department of Petroleum Resources (DPR) Examinations
The Department of Petroleum Resources, DPR Aptitude test examination is usually an online Computer Based Examination (CBT). The examination usually requires the examiners to have the major knowledge of computer appreciation. We have always made is a point of duty to provide solution to candidates seeking for assistance that is why we have taken our time to compile this comprehensive material for you.
Free DPR Past Questions (Sample Questions)
Question one Choose the lettered word or phrase that is most nearly opposite in meaning to the word DIFFUSE:
A. concentrate
B. contend
C. imply
D pretend
For questions 2 to 8, select the correct answer:
Question two I don't know_____.
A. where is your pen
B. where your pen is
C. where your is pen
D. where is the pen of yours
Question three If you want to see him, ______.
A. please let me to know
B. let me to know please
C. please let me know
D. let me please to be known
Question four  ­­­­­_______, the little girl ran out of the yard.
A. Being afraid of the dog
B. The dog she is afraid of
C. The dog has been afraid of
D. Was being afraid of the dog
Question five The manager_____ here at 4 p.m.
A. is supposing to arrive
B. is supposed to arrive
C. will suppose to arrive
D. is supposed to be arrived
Question six Due to the devaluation, many people have become rich, but many others _______.
A. ruined
B. have been ruined
C. have ruined
D. would have ruined
Question seven The man has been hospitalized since yesterday ______.
A. because his serious wound
B. because of his serious wound
C. because of his seriously wound
D. because his wound seriously
Question eight Your suggestion, ______ , is beneficial to both the company and the employees.
A. different than his
B. as well as he
C. as he is
D. like his
In the sentence below, choose the word or set of words for each blank that best fits the meaning of the sentence as a whole.
Question nine Early _____ of hearing loss is ______ by the fact that the other senses are able to compensate for moderate amounts of loss, so that people frequently do not know that their hearing is imperfect.
(A) discovery … indicated
(B) development … prevented
(C) detection … complicated
(D) treatment … facilitated
For questions 39 to 42, choose the correct tense for the verbs in brackets:
Question ten I usually go by train, but this weekend I am going by bus. It (take) longer but it costs less.
A. take
B. takes
C. is taken
D. will take
Question eleven I (not think) your brother is enjoying the party. He keeps looking at his watch.
A. doesn't think
B. didn't think
C. don't think
D. am not thinking
Question twelve The hall (be) painted at the moment, so it isn't looking its best.
A. is being
B. is
C. is to be
D. will be
Question thirteen At present I'm having my typewriter (repair).
A. repairing
B. repaired
C. is repaired
D. being repaired
Question fourteen If x = y – 9, and y – 4 = 10, x = ?
A. -5
B. +5
C. 1
D. A and B
Question fifteen What is the force in pounds exerted upwards on a piston with a diameter of 4 inches if a gauge indicates the internal pressure in the cylinder is 1000 psi?
A. 4000 lbs
B. 250 lbs
C. 50,266 lbs
D. 12,566 lbs
Question sixteen What is the weight in kilograms of a string of pipe that is 11,500 ft long and weighs .33 pounds per inch?
A. 1,725 kg
B. 20,700 kg
C. 45,540 kg
D. 3795 kg
Question seventeen How much time in minutes will it take a car driving at 90 km/hr to travel 27 kilometers?
A. 3.3 minutes
B. 2430 minutes
C. 18 minutes
D. 0.3 minutes
Question eighteen What is the total capacity in gallons of a rectangular tank 5 meters in height knowing that it will hold 200 liters per foot?
A. 3281 gal
B. 1000 gal
C. 867 gal
D. 8670 gal
How to Get the Complete DPR Aptitude Test Past Questions and Answers
To get the complete and updated version of the The Department of Petroleum Resources ( DPR) aptitude test past questions and answers, simply click on the GET PAST QUESTION NOW button and you will be directed to our secured payment option page where you will be required to make payment.
After successful payment, the material will be sent to your email address in less than 5 minutes. Note that this material will be sent in a PDF format.
DISCLAIMER
Pastquestionsforum is a global focused test-prep company. It is our duty to provide you with the most comprehensive study materials for your examination. Our study materials are focused on extensive analysis, input from previous test candidates, and, on occasion, official/privileged study materials made available by examination bodies and testing agencies.