Last Updated on January 4, 2023
Looking for the Deloitte Past Questions? Here is the most comprehensive version Deloitte Job Aptitude Test Questions with solved solutions. This is a thorough collection of Deloitte recruiting exam questions and answers that will be valuable to both graduate trainees and those applying for various roles in the firm.
Deloitte is a global professional services firm that specializes in audit and assurance, financial advisory, consulting, tax, and risk management. Deloitte's work has a global influence, as it employs approximately 300,000 people in 150 countries and serves a high percentage of the world's largest corporations.
About Deloitte
Deloitte Touche Tohmatsu Limited, or Deloitte, is a multinational professional services network with offices in more than 150 countries and territories worldwide. With headquarters in London, England, Deloitte is one of the Big Four accounting firms and the world's largest professional services network by revenue and number of professionals.
William Welch Deloitte began the firm in London in 1845, and it extended to the United States in 1890. In 1972, it combined with Haskins & Sells to establish Deloitte Haskins & Sells, and in 1989, it merged with Touche Ross to form Deloitte & Touche. Deloitte Touche Tohmatsu, later abbreviated to Deloitte, was renamed Deloitte Touche Tohmatsu in 1993. In 2002, Arthur Andersen's UK practice, as well as other of the firm's European, North American, and South American practices, agreed to combine with Deloitte. Monitor Group, a large strategic consulting firm, was acquired in January 2013 as a follow-up transaction. The international firm is a limited-by-guarantee UK private corporation that is supported by a network of independent legal entities.
Does Deloitte Repeat Questions?
It's very likely that some of the exam's questions will be repeated from the Deloitte Past Questions. What should you do to prepare for the Deloitte Job Aptitude Test Exams? Here, we have made available the complete and comprehensive study pack for your consumption. It's very likely that some of the exam's questions will be repeated from previous questions.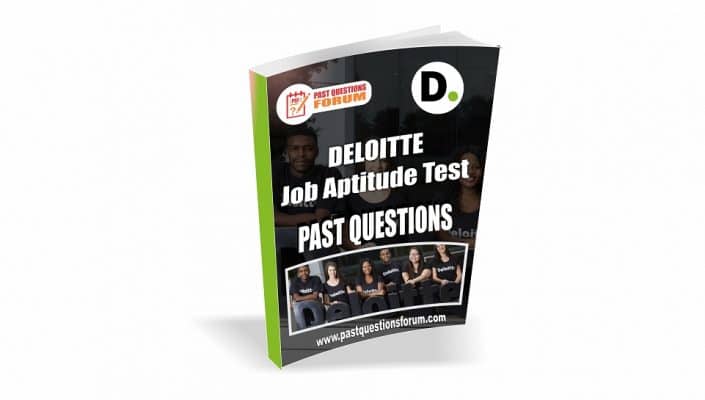 What Questions Are Asked In Deloitte Online Test?
Deloitte online test questions usually vary every year. This study pack helps you have an insight in how questions are being set. Typically, the test is administered by the in-house recruitment staff, but it is occasionally outsourced to Dragnet. It usually consists of the sections listed below. GMAT-style Quantitative Reasoning section, Verbal thinking includes passage comprehension, analogy, and sentence completion, and IQ tests and diagrammatic reasoning which are included in the cognitive section. The Deloitte Online test usually don't include current affairs.
How many Questions are in Deloitte?

The amount of questions varies from year to year; the average time spent on each question is one minute. With a total length of 60 minutes, you can expect a maximum of 60 questions. It is not permitted to use a calculator. Arrive at the testing center at least 30 minutes early.
Is Deloitte Aptitude Test Difficult?
The online evaluation and examinations offered by Deloitte are the primary barrier that applicants must overcome in order to be considered for a job, an internship, or a graduate degree at Deloitte. It may be tough to comprehend, but when people apply for a position with Deloitte, on average, 50-60% of candidates are rejected after aptitude testing.
Can We Use Calculator In Deloitte Aptitude Test?
You'll be given information in the form of tables and charts to understand, and then you'll have to choose an answer from a list of possibilities. You'll have 30 minutes to finish it, and you'll be able to use a calculator or paper and pencil if necessary.
Free Deloitte Aptitude Test Past Questions 2023 [Sample Questions]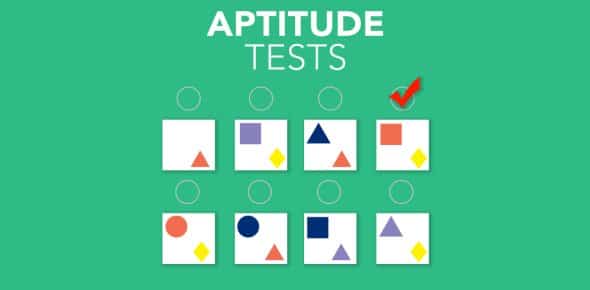 Below is the free version of the Deloitte aptitude test questions and answers pdf. The version below is just a sample question. The complete and updated material is available only after purchase. To access the complete version of this study pack, you are required to make payment first. Not that this material is available in a PDF format only.
Question one A rectangle is 14 cm long and 10 cm wide. If the length is reduced by x cms and its width is increased also by x cms so as to make it a square then its area changes by:
A.4
C.12
D.2
E. None of the above.
The correct answer is A.
Question two A motorcycle stunts man belonging to a fair, rides over the vertical walls of a circular well at an average speed of 54 kph for 5 minutes. If the radius of the well is 5 meters then the distance traveled is:
A.2.5 kms
B.3.5 kms
D.5.5 kms
E. None of the above
The correct answer is C.
Question three If 1 cm on a map corresponds to an actual distance of 40 kms. And the distance on the map between Bombay and Calcutta is 37.5 cms, the actual distance between them is:
A.375 kms
B.3750 kms
C.1500 kms
D.1375 kms
E. None of the above
The correct answer is C.
Question four A box contains 90 mts each of 100 gms and 100 bolts each of 150 gms. If the entire box weighs 35.5 kg., then the weight of the empty box is:
A.10 kg
B.10.5 kg
C.11 kg
D.11.5 kg
E. None of the above
The correct answer is D.
Question six If the radius of a circle is increased by 20% then the area is increased by :
A.44%
B.120%
C.144%
D.40%
E.None of the above
The correct answer is A.
How to get the Deloitte Job Aptitude Test Past Questions and Answers
To get the latest version of the Deloitte Past Questions and answers, kindly click on the GET PAST QUESTION NOW fill in your details and make payment. Supported payment methods include, Bank Transfer and online payment with your ATM Card. After successful payment, the material will be delivered to your email address.
DISCLAIMER
Pastquestionsforum is a global focused test-prep company. It is our duty to provide you with the most comprehensive study materials for your examination. Our study materials are focused on extensive analysis, input from previous test candidates, and, on occasion, official/privileged study materials made available by examination bodies and testing agencies.