Last Updated on January 2, 2023
Note that the version of the PricewaterhouseCoopers PwC Past Questions here has been updated up to 2022. This material contains questions from SHL and highly comprehensive. This is the latest version available. The material will be available to you after successful payment.
---
Get the latest version of the PWC Online Aptitude Test Questions and Answers sent to your email address in a PDF format. We have successfully compiled the PWC past questions and answers for applicants who are preparing for the PWC aptitude test examinations. It is highly recommended that all individuals who will be writing the PWC exams get this PDF material while they are preparing for the examinations. Note that this material guarantees success in the PWC Aptitude test examinations. The instructions on how to get this material is buried on this page. Make sure you follow the steps carefully. Download also Workforce Past Questions and Answers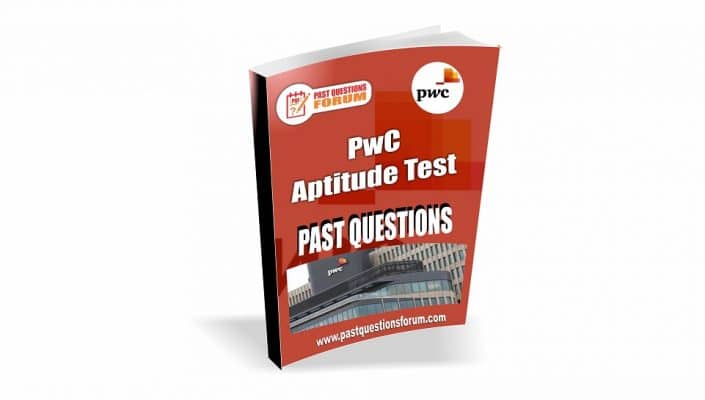 About PricewaterhouseCoopers PWC
Since 1953, through its predecessor businesses, Coopers & Lybrand and Price Waterhouse, PwC has been in operation in Nigeria. with offices in Lagos , Abuja and Port Harcourt, over 1000 employees and 31 resident partners, PWC has been one of the country's leading professional services firms. As a force for honesty, common sense and wise solutions to the issues facing companies and the capital markets, PwC s committed to serving. The firm is motivated by a single determination to do what is right, whether with their people , customers, society, or the world.
PwC is Africa most largest provider of professional services with close to 400 partners and over 9,000 people in 34 countries
PwC SHL Aptitude Test Interview Past Questions and Answers
The PwC pwc aptitude test questions and answers pdf is available as said earlier and fully compiled in a PDF format you will practice PricewaterhouseCoopers (PwC) Past Questions and Answers with detailed explanations. Note that the questions will come from Verbal and Numerical Reasoning.
Individuals who practice this material over and over will know what to expect; improve your speed and confidence; and be really prepared for the actual test.
See some sample questions below.
How do I Pass the PwC Assessment Test?
People ask questions like How do I pass my PwC interview? Below, we will he discussing on How to Pass PwC Online Assessment. The six main strategies mentioned below will help you increase your chances of success during the PwC recruitment process.
1. Get to know PwC
Conduct extensive research into the company's business model, corporate culture, traditions, recent trends, financial situation, and primary competitors. Start with the PwC website, Wikipedia, Glassdoor, Reddit, and Quora.
2. Understand the Role
Make sure you're familiar with the job's criteria before applying. Make a list of the top five qualifications for the job (including skills and experience).
3. Match Your Skills with These 5 Requirements
Consider and pick experiences from the last 3-5 years to show that you can provide what PwC needs. This does not have to be work experience; it can also be volunteer work or other extracurricular activities. You must demonstrate that your applicant profile closely matches the requirements of the PwC role.
4. Write Your CV with These 5 key Requirements in Mind
Within 30 seconds, the recruiter must determine if the experience fits their criteria. Use direct language, action verbs, and a description of the outcome of your actions.
5. Prepare for Aptitude Tests With Practice, Practice, and more Practice!
With a video interview technology and gamified evaluation solutions, try Graduates First's online practice aptitude assessments. This is THE MOST IMPORTANT ACTION YOU CAN TAKE TO Maximize The OPPORTUNITIES FOR GETTING HIRED.
6. Before the Interview: Talk and Engage With PwC Employees
Speak with people who work with PwC now or in the past. Look them up on LinkedIn or social media to see if they're available for an interview. Ask questions on Quora. Inquire about the qualities that PwC looks for in their workers.
PwC Online Test Pattern and Selection Process
PricewaterhouseCoopers (PwC) is a professional services firm with its headquarters in London. The business was founded in 1998 and is one of the Big Four auditors. It primarily focuses on assurance, tax, and advisory services.
Every year, the organization performs a recruiting process to find new employees. The company's selection process is divided into three stages. The following are the rounds:
Written Exam 
Technical 
HR Interview
PwC SHL Application Process
Online Application
Career Valuation Test
Career Unlocked Assessment
Numerical Reasoning Test
Video Interview
Virtual Assessment Day
Partner/Manager Interview
Free PwC Past Questions and Answers (Sample Questions)
Below is the free version of the PricewaterhouseCoopers (PwC) interview questions and answers.
Study the chart and answer the questions below it.
Question one In April to June the planned number of flights to Hong Kong is 30. What is this decrease as a
percentage of the number of flights booked in January to March?
A. 25.5%
B. 33.3%
C. 45.3%
D. 50%
E. 66.6%
The correct answer: B
Explanation
Number of flights booked to Hong Kong in January to March = 45 Planned number of flights to Hong
Kong in April to June = 30
% decreace = (45 – 30/45) x 100
=15/45 x 100
= 33.3%
---
Question two What was the number of UK flights booked as a percentage of the Malaysian flights if UK
flights booked is 20% of the total Europe flights?
A. 15%
B. 1.5%
C. 50%
D. 5%
E. 35%
Correct answer: D
Explanation
Total Europe flights = 20 UK flights = 0.2 x 20 = 4 Malaysian flights = 80 Required % =( 4/80) x
100
= 5%
---
Question three A 10 % discount is offered to flights to Hong Kong booked between January and March. What
was the total cost of all flights to Hong Kong in the period January to March?
A. $3500
B. $17500
C. $27500
D. $35000
E. Cannot say
Correct answer: E
Explanation
Insufficient information. Cannot say
---
Question four How many more flights were booked to the USA than to Europe?
A. 20
B. 30
C. 40
D. 50
E. 60
Correct answer: D
Explanation
Number of flights booked to us = 70 Number of flights booked to Europe = 20
Difference = 50
---
Study the chart and answer the questions below it.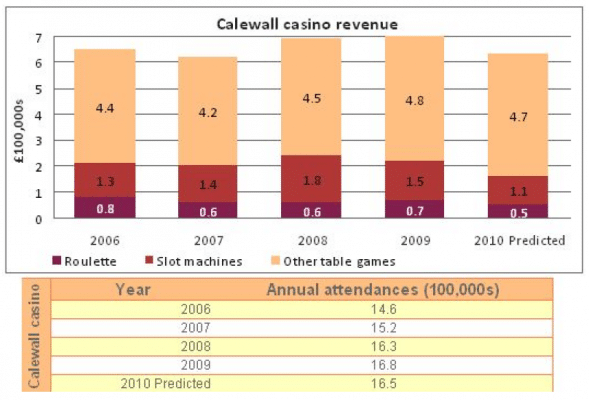 Question five What was the average amount gambled on Slot machines in 2007 by each individual who
attended Calewall casino?
A. £90.00
B. £9.00
C. £0.90
D. £900.00
E. £0.09
Correct answer: E
Explanation
Average amount gambled = amount gambled /number of people
= 140,000/1,520,000
= 0.09
How to get the PwC SHL Interview Questions and Answers
To get the complete and updated material, kindly hit the GET PAST QUESTION NOW button and you will be directed to our secured payment option page where you will fill in your details and make payment.
After successful payment, the material will be sent to your email address.
DISCLAIMER
Pastquestionsforum is a global focused test-prep company. It is our duty to provide you with the most comprehensive study materials for your examination. Our study materials are focused on extensive analysis, input from previous test candidates, and, on occasion, official/privileged study materials made available by examination bodies and testing agencies.