Last Updated on January 25, 2021
Noun Past Questions For PAD870 – LOCAL GOVERNMENT ADMINISTRATION. Locate the download button below to download the Noun Past Questions for PUBLIC PERSONNEL MANAGEMENT Department.
---
NATIONAL OPEN UNIVERSITY OF NIGERIA
Plot 91, Cadastral Zone, NnamdiAzikiwe Express Way, Jabi – Abuja
FACULTY OF MANAGEMENT SCIENCES
DEPARTMENT OF ADMINISTRATION
EXAMINATION 2018
COURSE CODE: PAD 870
COURSE TITLE: LOCAL GOVERNMENT ADMINISTRATION
CREDIT UNIT: 2 
INSTRUCTIONS

: Kindly answer three Questions.Question one is compulsory and carries 30 marks, while the rest carries 20 marks each. Present your answer legibly and logically using relevant examples. 
TIME ALLOWED: 2Hours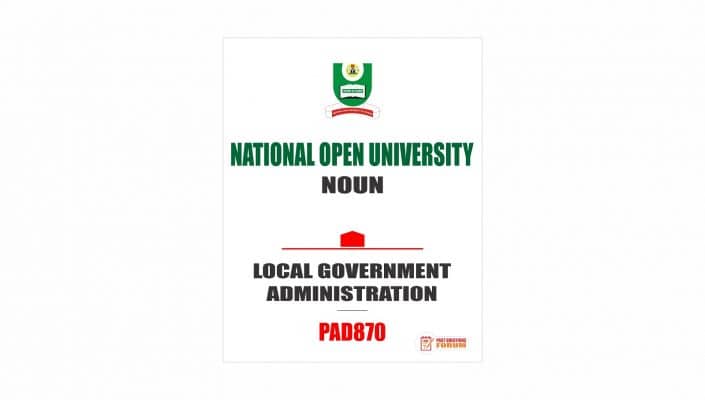 Question 1
a. In what ways can an individual assess development at the local level? 5 marks
b. Itemize and discuss the responsibilities of local government as assigned by the 1999 constitution 10 marks
c. Name and explain six (6) departments to be found in Nigeria local governments
10 marks
d. How is the Presidential System applied to local government? 5 marks
Total: 30 marks
Question2
a. Why do you think the sole administrator leadership systems are inferior to the parliamentary and presidential leadership? 10 marks
b. What is a committee? Name and explain the typologies of committees 10 marks
Total: 20 marks
Question 3
a. What  constitutes the definitional issues in local government 10 marks
b. Itemize and expatiate on the  main theories of local government 10 marks
Total: 20 marks
Question 4
a. What problems do you anticipate are confronting local council in   your state (Name your state)? What would you advise your Governor to do to alleviate the problem(s)? 10 marks
b. What is local government structure, the size of local councils depends on what?  10 marks
Total: 20 marks
QUESTION 5
a. Name and explain the major problems militating against local councils in Nigeria.
10 marks
b. What constitutes the development potentials of local government? 10marks
   Total: 20 marks
---

DISCLAIMER
Pastquestionsforum is a global focused test-prep company. It is our duty to provide you with the most comprehensive study materials for your examination. Our study materials are focused on extensive analysis, input from previous test candidates, and, on occasion, official/privileged study materials made available by examination bodies and testing agencies.