Last Updated on January 25, 2021
Noun Past Questions For MPA812 – INTER- GOVERNMENTAL RELATIONS. Locate the download button below to download the Noun Past Questions for INTER- GOVERNMENTAL RELATIONS. 
---
NATIONAL OPEN UNIVERSITY OF NIGERIA
Plot 91, Cadastral Zone, Nnamdi Azikiwe Express Way, Jabi – Abuja
FACULTY OF MANAGEMENT SCIENCES DEPARTMENT OF PUBLIC ADMINISTRATION
2019_2 EXAMINATION
COURSE CODE: MPA812
COURSE TITLE: INTER- GOVERNMENTAL RELATIONS CREDIT UNITS: 2
INSTRUCTION

: 1. Indicate your Matriculation Number clearly
2. Attempt question one (1) and any other two (2) questions – three questions in all
3. Question one (1) is compulsory and carries 30 marks, while the other questions carry 20 marks each.
4. Present all your points in coherent and orderly Manner TIME ALLOWED: 2 Hours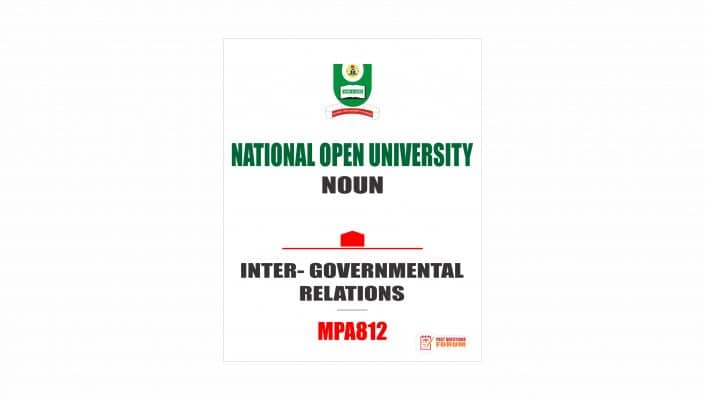 1. (a) What is Federalism? State one definition of a Scholar in the field. (10 marks)
(b) Succinctly explain the nature and types of Federalism. (20 marks)
2. Explain with graphic illustrations the 3 models of inter – governmental relations in relation to authority relationships that exist between levels of governments.
(20marks}
3. What do you understand by the concept of fiscal federalism. Explain in detail the theories of fiscal federalism. (20marks)
4. Describe the objectives of Fiscal Inter-governmental relations and explain
the Tax Dimension and Fiscal Federalism using Nigeria as an Example. (20 marks)
5. What is the meaning of Non-governmental Organisation (NGO)?. State the roles they play in inter – governmental relations and the techniques they use to influence government policy- making. (20 marks)
(b) Discuss the major decisions of the Federal Government of Nigeria in the Government white paper of June, 1997 on the recommendations of Ayida Panel in 1995. (10 marks)
DISCLAIMER
Pastquestionsforum is a global focused test-prep company. It is our duty to provide you with the most comprehensive study materials for your examination. Our study materials are focused on extensive analysis, input from previous test candidates, and, on occasion, official/privileged study materials made available by examination bodies and testing agencies.