Last Updated on January 27, 2021
Noun Past Questions For AEM405 – EXTENSION TRAINING AND CURRICULUM DEVELOPMENT (october-2019). Locate the download button below to download the Noun Past Questions for AEM405 – EXTENSION TRAINING AND CURRICULUM DEVELOPMENT 
---
NATIONAL OPEN UNIVERSITY OF NIGERIA
University Village, Nnamdi Azikiwe Expressway, Plot 91, Cadastral Zone, Jabi, Abuja
Faculty of Agricultural Sciences, Dept. of Agricultural Economics and Extension, 
PoP Examination Questions,October/November, 2019
COURSE CODE: AEM 405
CREDIT UNITS: 3 
COURSE TITLE: EXTENSION TRAINING AND CURRICULUM DEVELOPMENT
Total Score:  70 Marks
INSTRUCTION

: Answer question 1(30marks) and any other 4 questions (10marks each)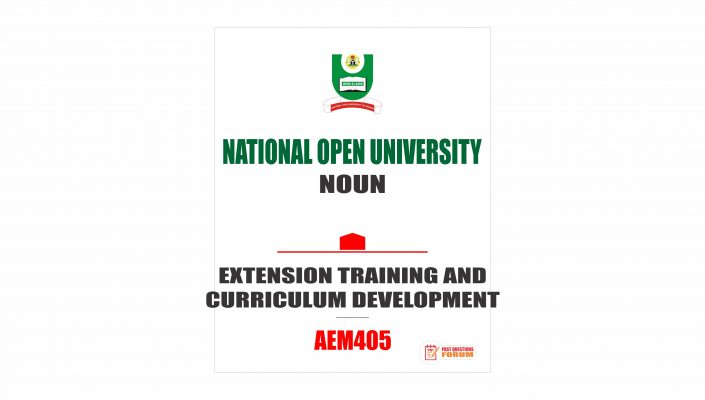 1 a) Explain the training cycle under the following:
       i) Analysis/needs Assessment
      ii) Design
     iii) Development of Training Materials
     iv) Conduct of the Training
    v) Evaluation and Appraisal      (2 mks each = 10marks)
   b)  Discuss briefly five (5) problems of the training programme.(10 marks)
  c) Briefly explain the following objectives:
 i) Group Objectives
 ii)Individual or Family Objectives
 iii) Long-Term Objectives
    iv) Short-term or immediate
 v) Broad Objectives                                (10marks)
2. Under the following headings, discussthe scope of extension services: (10marks)
i)Assisting in agricultural production.
ii)Wise use and development of natural resources.
iii)Family living.
iv)Youth development.
v)Leadership development.         (10marks)
3 (a) Outline any two (2) measures you will consider in evaluating a training program.(4mks) (b) Elaborate on any four (4) benefits of extension evaluation    (6marks)
4. a)  List four (4) situations where training aids are needed. (6marks)
    b) List four (4) basic steps of a training program          (4marks)
5.a)Explain the following training needs analysis process:
(i)Job analysis
(ii)Task analysis
(iii)Knowledge and Skill-gab analysis      (6marks)
b)     A variety of training methods are available to a trainer, itemize four (4) most
commonly used methods. (4marks)
6. a) Briefly state four (4) basic principles of effective evaluation. (6marks)
    b) Outline four (4) points that will serve as guidelines when planning and conducting evaluation of an educational program.(4marks)
  7. Briefly explain the following methods of personal observations in evaluating extension training Programmes: (10 mks)
i)Checklists2marks
ii)Rating scales     2marks
iii)Mail questionnaire    2marks
iv)Case studies      2marks
v)Group interviews    2marks
DISCLAIMER
Pastquestionsforum is a global focused test-prep company. It is our duty to provide you with the most comprehensive study materials for your examination. Our study materials are focused on extensive analysis, input from previous test candidates, and, on occasion, official/privileged study materials made available by examination bodies and testing agencies.