Last Updated on January 27, 2021
Noun Past Questions For AEM732 – Women and Youth in Rural Development Programme . Locate the download button below to download the Noun Past Questions for AEM732 – Women and Youth in Rural Development Programme
---
NATIONAL OPEN UNIVERSITY OF NIGERIA
University Village, Nnamdi Azikiwe Expressway, Plot 91, Cadastral Zone, Jabi, Abuja
FacultyofAgriculturalSciences,Dept.ofAgriculturalEconomicsandExtension,
PoP Examination Questions, October/November, 2019
Course Code: AEM 732
Course Title: Women and Youth in Rural Development Programme
TimeAllowed:2Hours
Credit Units: 2
Instruction

: Answer question 1 (25 Marks) and any other 3 questions (15 Marks each).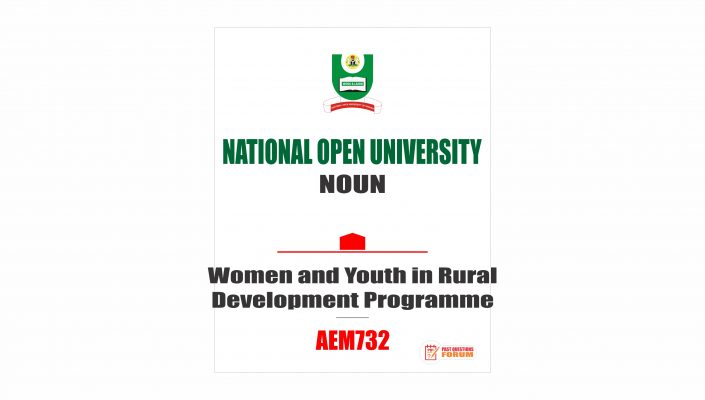 1. (a) i. What is rural development? 2marks
ii. Mention anythree (3) different programmesor conceptsappliedbygovernmenttodevelopthe
ruralareas. 3marks
(b) i. Clearlymentionthe two(2) majorproblemsposedbytherural-urbandriftsirrigation. 4marks
ii. State two(2) majorobjectivesof agriculturalextension inruraldevelopment. 2marks
(c) i. Whoisanextensionworker? 3marks
ii. Mention six(6) typesofcooperativesthatfacilitate ruraldevelopment.3marks
(d) Identify three(3) types ofbusinessownership. 3marks
(e)Outline five(5) factorsneededintransformingruralareasasstatedbyruralreforminternationals. 5 Marks
=25Marks
2. (a)Enumeratethe four(4) majorconcerns ofthethirdNationalDevelopmentPlanof1975-1980 forrural
development atthenationallevel. 6marks
(b)Mention five(5) benefits ofruraldevelopmentprogrammeinNigeria. 5marks
(c)Identify four(4) characteristicsoftheruralareas. 4marks
3. (a) Clearly list five ( 5) challenges to rural development programme. 5marks
(b)State five(5) sourcesofcreditavailabletothe poorruraldwellers. 5marks
(c)Mentionfive(5)problemsofextensionin developingcountries. 5marks
4. (a) Explain briefly four (4) roles of women in rural development in Nigeria. 6marks
(b)Whatarethelikelyfour (4) calculatedstepslocalregionalandnationallevelsshould adopttoensure
womenparticipation indecisionmakingintheir communities. 6marks
(c) Establishtwo(2)factorsorwayswomencanbeencourageto participateincommunityprogrammes.3mks
5. (a) Define clearly the concept of rural youth. 4 ½ marks
(b)State three(3) areasinwhichruralyouth are use astoolsforexploitation. 4½marks
(c)Identifythree(3) negativeimpactofglobalizationontheruralyouth. 6marks
6 (a) Define cooperative societies. (3 marks)
(b)Explaintheroleofsuppliescooperativeinruraldevelopmentindevelopedworld. (3marks)
(c)Discussfour(4) causesofpovertyinNigeria. (9marks)
DISCLAIMER
Pastquestionsforum is a global focused test-prep company. It is our duty to provide you with the most comprehensive study materials for your examination. Our study materials are focused on extensive analysis, input from previous test candidates, and, on occasion, official/privileged study materials made available by examination bodies and testing agencies.