Last Updated on February 22, 2021
Noun Past Questions For AEM504 – Rural Community Development. Locate the download button below to download the Noun Past Questions for AEM504 – Rural Community Development.
---
NATIONAL OPEN UNIVERSITY OF NIGERIA
University Village, Nnamdi Azikiwe Expressway,
Plot 91, Cadastral Zone, Jabi, Abuja Faculty of Agricultural Sciences,
Dept. of Agricultural Economics and Extension PoP Exam Question October/November, 2019
Course Code Rural Community Development
Course Title AEM 504
Credit Unit: 2
Total Score 70 Marks
Time Allowed: – 2 Hrs
Instruction: Answer compulsory question 1 (25 mks) and any three (3) questions (15 mks each)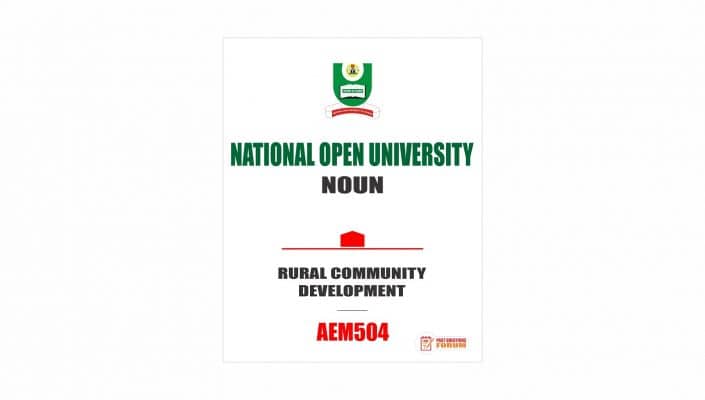 Question One
a. Explain the concept of rural community development (5 Marks)
b. State four (4) reasons for rural community development (6 mks)
c. Expatiate on any four (4) factors hindering rural community development (4 mks)
d. Enumerate any four (4) social indicators of development (4 Marks)
e. Explain the three (3) main sources of social change (6 mks)
Question Two
a. Settlement patterns are usually influenced by some factors. State two (2) of these major factors (5 Mks)
b. Suggest two (2) main objectives of development (4 mks)
c. What is community development (6mks)
Question Three
a. Itemize four (4) problems that have bedevilled several community development programmes (6 mks)
b. Review three (3) role of agricultural extension as an institutional support to community development (6 mk)
c. Explain the concept of community (3 mks)
Question Four
a. From the definition of community development, identify four (4) possible emphases that could be drawn out of what it entails (4 mks)
b. Highlight two (2) types of settlement patterns known in Nigeria (3 mks)
c. Narrate four (4) major factors affecting the rate of societal change (8 mks)
Question Five
a. Explain the concept of innovation (4 Marks)
b. Discuss the two (2) major sources of innovation (6 mks)
c. Outline five (5) objectives of innovation (5)
Question Six
a. State three (3) objectives of community development (6 mks)
b. Identify two (2) principles of community development (4 mks)
c. Identify any (5) rural development programmes in Nigeria. (5 Marks)
---

DISCLAIMER
Pastquestionsforum is a global focused test-prep company. It is our duty to provide you with the most comprehensive study materials for your examination. Our study materials are focused on extensive analysis, input from previous test candidates, and, on occasion, official/privileged study materials made available by examination bodies and testing agencies.