Last Updated on January 25, 2021
Noun Past Questions For MBA851 – PROJECT EVALUATION. Locate the download button below to download the Noun Past Questions for PROJECT EVALUATION. 
---
---
NATIONAL OPEN UNIVERSITY OF NIGERIA
PLOT 91, CADASTRAL ZONE, NNAMDI AZIKIWE EXPRESS WAY, JABI – ABUJA FACULTY OF MANAGEMENT SCIENCES
DEPARTMENT OF BUSINESS ADMINISTRATION 2019_2 EXAMINATION
COURSE CODE: MBA 851 CREDIT UNITS: 3
TIME: 2 ½ HOURS COURSE
TITLE: PROJECT EVALUATION
INSTRUCTION

: 1. Indicate your Matriculation Number clearly
2. Attempt question one (1) and any other three (3) questions – four questions in all
3. Question one (1) is compulsory and carries 25 marks, while the other questions carry 15 marks each.
4. Present all your points in coherent and orderly Manner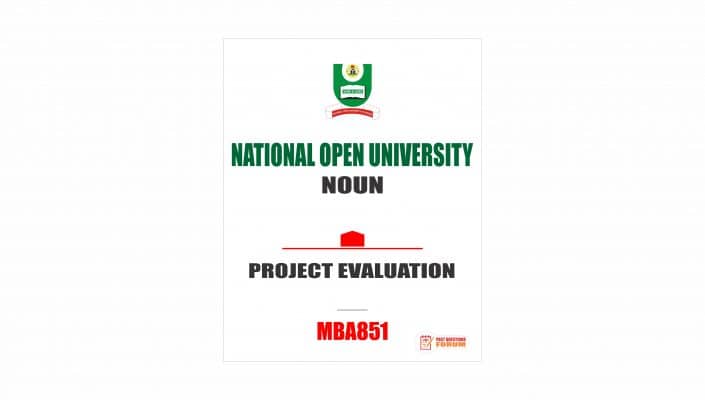 Question 1
(a) Explain the concept of project life cycle. 10 marks
(b) State the various stages of project life cycle 15 marks
Question 2
a. What is bar chart? 7 marks
b. Discuss the various types of bar chart 8 marks
Question 3
(a) State any two measures of central tendency 5 marks
(b) State the main use of the regression tool of statistical analysis. 5 marks
(c) Explain the use of correlation tool of analysis 5 marks
Question 4
Explain fully the various segments of the project evaluation activity of a typical big project in Nigeria. 15 marks
Question 5
What are the factors that can affect the location of a project in Nigeria? 15 marks.
Question 6
Capacity of a production outfit can be measured in various ways. State the methods of measuring capacity. 15 marks
DISCLAIMER
Pastquestionsforum is a global focused test-prep company. It is our duty to provide you with the most comprehensive study materials for your examination. Our study materials are focused on extensive analysis, input from previous test candidates, and, on occasion, official/privileged study materials made available by examination bodies and testing agencies.