Last Updated on January 2, 2023
FCMB Recruitment Past Questions and answers is available at Past Questions Forum. All individuals who applied for and online recruitment at First City Monument Bank, FCMB are expected to get the latest version of the First City Monument Bank aptitude test past questions and answers are the prepare for the FCMB interview. Download Sterling Bank Recruitment Past Questions and Answers. Note that this page carries the current interview questions in FCMB.
About FCMB
First City Monument Bank Ltd, FCMB is a full service banking group, The FCMB has her headquarter located in Lagos State. The vision of the First City Monument Bank FCMB is to be the premier financial services group of African origin.
Customer service: 01 279 8800
FCMB Was Founded: 20 April 1982, Nigeria
The Founders of FCMB Are: Subomi Balogun, Oloye Subomi Balogun, Subomi Micheal Balogun
Headquarters location: Lagos
Key people: Ladi Balogun, Adam Nuru
Subsidiaries: CSL Stockbrokers Limited, MORE
Key Features of FCMB Recruitment Past Questions
Abstract Reasoning
Basic Mathematics
Common Knowledge
Current Affairs
History
Verbal Reasoning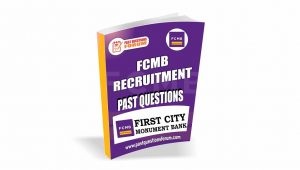 FCMB Recruitment Past Questions
Question one A worker earns a 5% raise. A year later, the worker receives a 2.5% cut in pay, and now his salary is N22702.68. What was his salary to begin with ?
(a) N22000
(b) N22176
(c) N25000
(d) N22193
Question two Which of these two statements must be true?
A. CFS's symptoms are also attributable to other illness
B. The exact number of CFS sufferers is unknown
C. The cure for CFS is to alleviate symptoms
D. CFS stems from genetic predisposition
Question three Which of these two statements must be true?
A. A 2009 study linking CFS with a retrovirus has now been discredited
B. World Health Organisation classify CFS as a neurological disease
C. Scientists believe that CFS originates from a virus
D. The Writer believes that CFS is a psychiatric condition
Question four Which of these two statements must be true?
A. CFS affects 17 million people worldwide
B. CFS nomenclature is the main controversial aspectnof the disease
C. CFS is the popular name for Myalgic Encephalomyelitis
D. There is continuous scepticism around CFS
Question five Which of these two statements must be true?
A. CFS's symptoms lack consensus within the medical community
B. Many patients believe the name Myalgic Encephalomyelitis trivialises the condition
C. A symptom of CFS is profound fatigue
D. There are more than two controversies to CFS
The past questions above is just a sample of the FCMB recruitment past questions. To get the complete FCMB past questions, follow the steps below to start your download. Note that this past question is not free. The price for this material has been attached to this page.
How to Get FCMB Past Questions And Answers
To get the complete version of the FCMB recruitment past questions and answers, kindly hit the GET PAST QUESTION NOW button and you will be directed to a page where you can make payment. Payments can be made using your mobile phone (i.e mobile transfer). Payments can also be made using your ATM card. You can as well make payments in the bank by copying the account details on this page to the bank for payment.
DISCLAIMER
Pastquestionsforum is a global focused test-prep company. It is our duty to provide you with the most comprehensive study materials for your examination. Our study materials are focused on extensive analysis, input from previous test candidates, and, on occasion, official/privileged study materials made available by examination bodies and testing agencies.