Last Updated on April 12, 2022
Nigerian Army DSSC/SSC Recruitment Past Questions and Answers for 2022 recruitment is available here. Place your order and get the material sent to your email immediately after successful payment. Did you apply for the Nigerian Army Direct Short Service Commission (DSSC) or Short Service Combatant (SSC) Recruitment? Do you need the original and up to date version of the Nigerian Army DSSC/SSC Recruitment Past Questions and Answers? If yes, your search ends here. We have compiled comprehensively the Nigerian Army Direct Short Service Commission (DSSC) and Short Service Combatant (SSC) Recruitment past questions and answers for your consumption. Follow the steps on this page to proceed. You can Also download the Nigerian Army Past Questions
About the Nigerian Army
The Nigerian Army (NA) is the largest component of the Nigerian Armed Forces, and is responsible for land warfare operations. It is governed by the Nigerian Army Council (NAC). It bears the brunt of the nation's security challenges, notably the Boko Haram insurgency.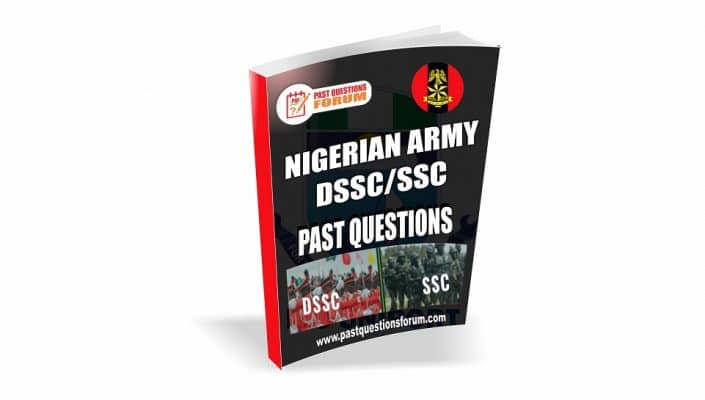 Nigerian Army DSSC Recruitment Past Questions And Answers
The Nigerian Army Direct Short Service Commission (DSSC) recruitment past questions and answers is available here for download. The material has been compiled and updated for your consumption. It is strictly essential that all individuals who have applied for the Nigerian Army Direct Short Service Commission (DSSC) recruitment get their copies of this ebook. This PDF guide will guarantee success in the Nigerian Army interview examination
Nigerian Army SSC Recruitment Past Questions and Answers 2022
The Nigerian Army Short Service Combatant (SSC) recruitment past questions has also been compiled along side the DSSC past questions. The two service past questions has been richly compiled as one material. You can now make payment to download and smile into your exam centers. We have also uploaded a free version of the Nigerian Army SSC interview questions and the Nigerian Army DSSC interview questions.
Free Updated Version of the Nigerian Army DSSC/SSC Recruitment Past Questions and Answers 2022
Question one The Nigerian army was formally established by the act of parliament in
a 1963
b 1957
c 1964
d 1960
Answer Option D
Question two Which of following is the core duty of the Nigerian army?
a Persecuting offenders
b Protection from external threat
c issuance of all Nigerian travel document
d Deporting of foreigners
Answer Option B
Question three Who is Nigeria's current chief of army staff?
a Umar Dahiru
b Uhuru Kayidee
c Boniface Cosmos
d Tukur Yusuf Buratai
Answer Option D
Question four Which word means – official paper; deed; certificate
A. act
B. action
C. document
D. patron
Answer Option C
Question five Which word means – shackle; hindrance
A. fetter
B. closure
C. knot
D. tie
Answer Option A
Question six Which word means – nobility; fairness; generosity
A. abstinence
B. magnanimity
C. parody
D. affluence
Answer  Option B
Question seven Which word means – fear of foreigners or strangers
A. turpitude
B. chauvinism
C. xenophobia
D. idolatry
Answer : Option C
Question eight Which word means – symbol; metaphor
A. allegory
B. dictum
C. adage
D. aphorism
Answer Option A
How to get the Nigerian Army Past Questions and Answers for
DSSC and SSC
To get latest version of this material, kindly hit the GET PAST QUESTION NOW BUTTON and you will be directed to our secured payment page. On arriving this page, you will have to fill in your personal details, select a payment option and hit the PLACE ORDER button to make payment.
Once you have made a successful payment, the material will be sent to your email address in a PDF format immediately.
DISCLAIMER
Pastquestionsforum is a global focused test-prep company. It is our duty to provide you with the most comprehensive study materials for your examination. Our study materials are focused on extensive analysis, input from previous test candidates, and, on occasion, official/privileged study materials made available by examination bodies and testing agencies.