Last Updated on November 11, 2019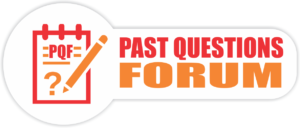 Latest Past Questions Portal >>> Provides you with up to date varieties of past questions and answers
How to get any past questions you need online. A lot people have been searching for a trusted site where they can get the past questions and answers easily without stress. I want to let you know that Past Questions Forum provides you with latest categories of past questions and answers all in PDF format. At Past Questions Forum you will get to see different varieties of past questions as well as their answers like recruitment past questions, post utme past questions, internship past questions and answers etc.
We have ever past question you need available at cheaper rates. All you need to do is locate the search bar type in any past question you want and select it to get a copy. If you can't find the past questions you want, you can send it to us at [email protected] and we will upload it in our store for purchase.
Our Policy
We try all possible best to deliver every requested past questions immediately after customers pays for it. We also give our steady customers discounts.
---
Contact Us
Feel free to contact us if you have any issues purchasing you past questions below. If you have any contribution to make on our Past Questions Portal leave it below.
Recommended Past Questions
DISCLAIMER
Pastquestionsforum is a global focused test-prep company. It is our duty to provide you with the most comprehensive study materials for your examination. Our study materials are focused on extensive analysis, input from previous test candidates, and, on occasion, official/privileged study materials made available by examination bodies and testing agencies.